Employee HR self-service is not without its challenges. Common questions we get asked here at Access PeopleHR are: 
Will it increase chances of error?
Will it require additional training?
Will employees actually use it? 
These are all valid points to consider. So, in this article, we want to address those challenges and offer our insights on how you can overcome them. After reading, you should be clearer on how you can use ESS for the greater good of your team and business.  
What is HR self service?
HR self-service is an online platform that gives employees the ability to manage their HR-related tasks. Through a self-service system, employees can access their pay information and update their personal details. Many self-service systems also allow employees to request holidays and keep up-to-date with business news. It is normally integrated with a business' overall HR software. This provides employees with a centralised platform to access and manage their HR information.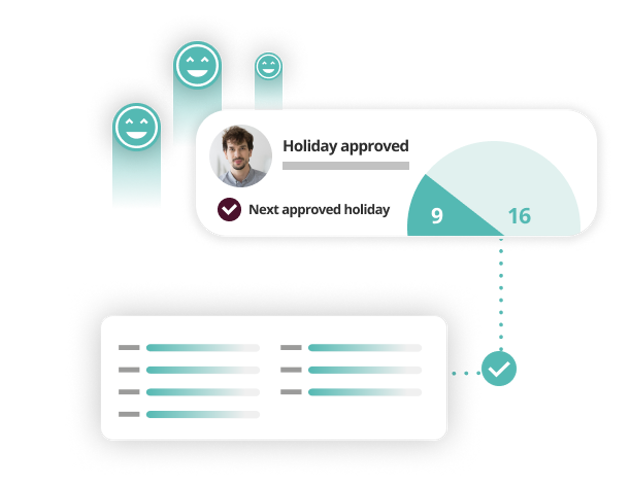 5 Solutions To Common HR Self Service Problems
1. Increased risk of errors
When handing over certain HR-related tasks to employees, you may be concerned with an increased risk of error. For example, employees inputting incorrect data or miscalculating their time and attendance.  
So, what's the solution? It all starts with adequate training. When you select a HR software provider, it is their responsibility to provide effective training on how to use the software. 
What's more, this information should be freely available online. For example, you should have access to e-learning portals and help guides to use whenever you need to.  
It's also important to note that while mistakes may still occur, it is easier to identify those mistakes through HR software. Duplicate data entry, for example, can be easily flagged.  
2. Buy-in from employees
Implementing new software can be a big change, and a challenge we often hear of is a lack of buy-in from employees. When purchasing HR software, staff need to be well-trained to ensure they are engaged and using the software correctly.  
However, training can be time-consuming and will interrupt an employee's usual responsibilities. That's why it's important to get your team motivated to use the system as soon as possible. Some software providers will present an 'Introduction to staff' document, which simply highlights all the self-service functionality available to employees. This is a great way to achieve that initial buy-in, but there's much more to it.  
Expert advice and implementation support is essential. Training should be clear and easy, and your software provider should be on hand to offer guidance throughout the initial set-up process.  
Finally, a system that's easy to use will go a long way in ensuring buy-in from your team. Afterall, self-service is there to make your team's lives easier. Selecting a HR software that has a simple and intuitive interface is a great way to get them motivated to use the software to its fullest.
3. Implementation costs
For those providers who charge a fee for implementation, additional training for employees may come at an extra cost. That's why it's important to consider the long-term benefits of the system before making an investment.  
To overcome this problem, you should understand clearly: 
What's involved in implementation (including what training is involved)

 

The cost of implementation

 
Integration is also an important factor. If you are using many business tools, you should check your shortlisted providers' integrations as well as their implementation process.
Some useful links: 
4. Security and compliance
When sensitive employee data is being stored online, you're you are right to be concerned with security and compliance. That's why it's crucial you select a provider that has strong security measures in place.  
Your chosen software should meet industry standards for data security and should be compliant with regulations such as GDPR.  
When researching a HR software provider, look for: 
Two-factor authentication

 

Password policies

 

Encryption

 
To find out 5 ways PeopleHR ensures HR software security, read our article.
5. Accessibility
With the rise in remote work, you should also consider how your employees can access their HR self-service system. Older systems may require employees to be on-site in order to access their information. This can be inconvenient and limiting.  
A cloud-based, online system will allow users to access their HR data anywhere, any time. What's more, cloud-based solutions are more scalable, allowing you to adjust to changing workforce needs.  
A key benefit (and one that's often overlooked) of HR self-service software, is the device in which employees can access and update their information. An HR software with a mobile app is a great way to further improve accessibility for employees. Imagine being able to book your holiday from the comfort of your own home, on your mobile device? 
Many software providers offer mobile accessibility, but not all offer an HR app. Mobile apps have been uniquely designed to be mobile-friendly, optimising the experience for the user.
Is your business ready to implement HR self service?
Now you've read the common challenges with ESS and how to overcome them, the big question is – are you ready to implement HR self service? 
Before making that decision, you should consider whether the benefits outweigh the potential obstacles. And many of these obstacles can be overcome with a supportive HR self-service provider. To recap: 
Adequate training

is essential but shouldn't break the bank. Look for a provider that offers free implementation and training. 

 

Get your team excited about this change by

communicating the features and benefits of ESS

to them. 

 

Select

a provider that's transparent about their security

credentials. 

 

A HR software that's

easy to use

will go a long way in achieving buy-in from your team. 

 
If you're interested in PeopleHR's self-service functionality, take advantage of a free trial today to assess whether we're the right fit for you.