HR software implementation guide for SMBs
Complete the form for instant access to your free HR software implementation guide: HR software implementation: An SMB guide to success. 
This guide covers: 
How to effectively prepare for your HR software implementation

 

A detailed overview of Access PeopleHR's implementation process

 

In-depth training strategies to ensure your team is fully equipped to use the software

Exclusive answers to frequently asked questions that you won't find anywhere else

 
Whether you're a new Access PeopleHR customer or still deciding on the right software provider for your business, this guide will provide you with the knowledge and confidence to successfully implement an HR software solution that meets your specific needs.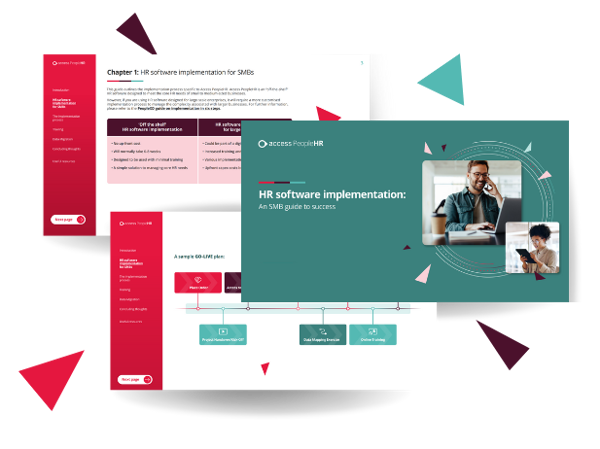 Why download our HR software implementation guide?
Don't underestimate the importance of the 'set-up' process when choosing an HR software provider. Unfortunately, many companies overlook this critical step, and there's a lack of online resources available to guide you through it. 
Without proper preparation, you may end up disappointed with the time and financial investment required. But don't worry - our free guide is here to help. 
By reading our guide, you'll discover: 
The best ways to prepare for your HR software implementation

 

What you can expect to pay for the process

 

How much time and resources will be required

 
And the best part? Our guide is designed to be easily understood, with no technical jargon or complicated language. We deliver straightforward insights to you in plain English, so you can feel confident and prepared as you embark on this crucial journey.