Topics we'll be covering in our guide on HR system implementation:
Almost every HR software provider will have a clear pricing structure (cost per user, per month) on their website, but one thing that can lead to some confusion is… the cost of implementation. Implementing a new HR system (i.e. setting it up so it's ready to use within your organisation) can mean different things to different businesses.
Things to consider when implementing a new HR system:
Do I need a full, 'boots on the ground' strategic implementation? This will take more time to set up (around 6-12 months) and will come with a large capex cost (sometimes £30k or more). 
Does my business require a simpler implementation? (i.e. you purchase your product and are supported whilst you set it up). With this option, you are likely to be up and running within 6-8 weeks and (in many cases) there will be no up-front cost for implementation. 
(That's a high-level overview. We'll explore these points further throughout the article).
As you can imagine, both differ in terms of depth of complexity (and cost), and what you choose will depend on your requirements as a business. Don't worry if you don't yet know the answer to the above questions. Here at PeopleHR, we've worked with enough businesses to know what's involved in implementation and will do our best to answer your queries in this guide.
Also - be sure to take a look at our implementation checklist further down the page.  
Read on to learn more…
What is HR implementation?
Human resources (HR) implementation refers to the process of adopting and integrating HR software into your business. This could mean transitioning from one HR platform to another or adopting HR software entirely – as part of a business's digital transformation strategy. A fully utilised HRIS management system can support HR operations by digitising tasks and streamlining workflows.
HR system implementation will require a lot of scrutiny and planning for projects to achieve their desired objectives. When overlooked, this can lead to many HR systems failing to live up to expectations and thus impacting the relationship you have with your supplier. This article will cover some of the things you need to know about – to avoid this happening.
The costs of HR implementation
As we mentioned in the introduction, the cost of HR system implementation will depend very much on your requirements as a business. You will normally fall into two categories:  
Category one - If your company is undergoing a large-scale digital transformation and are prepared for substantial capex costs, then you will be more interested in a mid-market/upper mid-market provider, like PeopleXD. Often, this type of integration will be a strategic move for your organisation, and will have full buy-in from the board. As we said, an integration of this scale could take up to a year and will require significant 'on the ground' training and support whilst your organisation gets fully up and running. Be prepared to pay an up-front cost of anything from £30-100k. 
Category two – Most small to medium-sized businesses won't require such a complex set-up. In fact, you could purchase HR software and be ready to use its full list of features within 6-8 weeks. Implementation and support will normally consist of a 'walk-through' of the software, covering: 
How to populate datasheets to get them into the system 
How to transition data from one system to another 
Configuration guidance 
General specialist support  
Due to the nature of this type of integration, many HR software providers do not require you to pay an up-front fee. Instead, you will pay a monthly fee consisting of price per user, per month. This fee can normally range from £1.30 to £6.00 per user, per month for a basic package. This price increases as more functionality is added.  
How to uncover hidden HR implementation costs
When implementing a new HR system, If a provider offers 'free implementation', then there shouldn't be any hidden costs. However, if you request further training (outside the scope of what's been agreed) – then this will incur an additional fee.  
Many providers will charge a daily rate for training, and they should be transparent with you about the cost of this prior to your agreement. Daily rates will vary, but you can expect to pay within the region of £1000 per day + VAT.  
For more complex implementations, here are some of the 'hidden' HR software implementation costs you should be aware of: 
Hidden HR software implementation cost 

What to expect 

Scope creep

If your project exceeds its agreed launch date, then this can come at a significant cost to a business.  

Forecasting is a skill, and your vendor should agree on a realistic timeline that works for all parties involved. 

  

Wrong Team 

There'll be many stakeholders involved in implementation. If you select the wrong vendor for your business, then this may incur hidden costs. Similarly, if the person chosen to manage the project within your team lacks project management skills, then this can prove detrimental to your budget. 

 

Poor training  

If your team isn't trained on how to use the software effectively, you'll be spending too much time on simple tasks, not to mention increasing your chances of error. 

 
To avoid these hidden costs, you and your vendor must have a good working relationship. This will require setting realistic timeframes and ensuring every user is trained effectively during implementation.

What do I need to consider before implementing a HR system?
Many HR systems fail to live up to expectations once implemented. Typically, people tend to blame the system's supplier for not delivering on what was agreed, or the software itself for not working as expected. However, in most instances, it's a case of insufficient planning and poor implementation which leads to projects failing to achieve their desired objectives.  
When working with a potential customer at PeopleHR, we very intentionally cover the following questions with them during the sales process. This way, it will ensure that not only are we the right fit, but that they don't have buyer's remorse down the road. 
10 questions to consider before implementing a new HR system: 
Why is HR software needed in my business? 
What are my objectives as a business? 
What end result would I like to achieve? 
What is my budget (both long and short-term)? 
Do I require a strategic implementation or a more self-serving 'off the shelf' solution? 
How much time am I willing to wait for HR software to be set up? 
Am I looking to make short-term or long-term savings, as a business? 
Will my HR software need to be integrated with existing tools/software? 
Will my chosen vendor provide the right level of support needed for my business? 
Will my chosen HR software adapt to my company's growth?
The above questions will be useful before rolling out your HR system implementation project plan. 
HR system implementation checklist
No matter which type of implementation your company needs, the rollout period can be a daunting one. Whilst every provider differs, here's a basic list of items that you'd need to consider (and be prepared for) in preparation for your HR software implementation.  
Note: the speed at which this is done often relies on the health of your database – and whether employee information is easy to obtain. So, to avoid unnecessary hold-ups, it's a good idea to ensure all employee records are accurate, up to date and clear.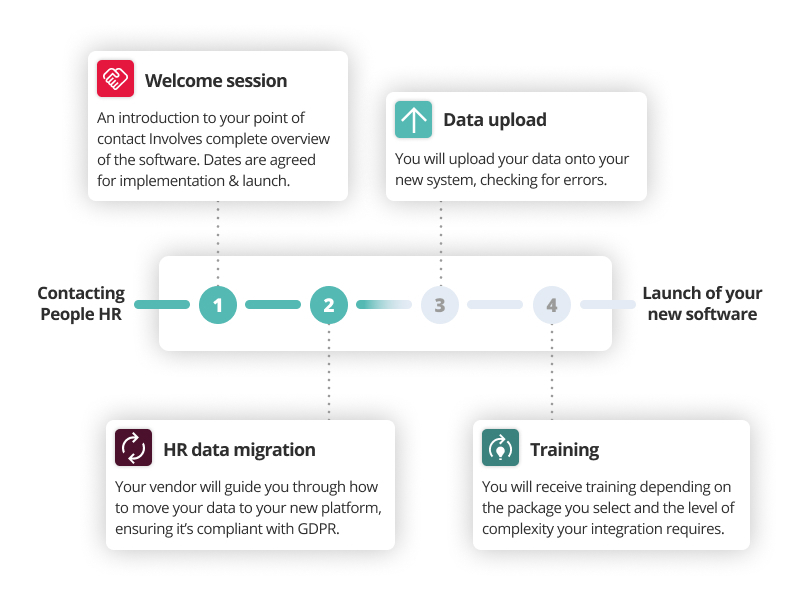 4 step-checklist for implementing a new hr system:
Welcome session – This is where you'll get introduced to your point of contact who'll be with you during the implementation process. They will provide a complete overview of the software and what to expect, whilst agreeing on dates for implementation and launch.  
HR data migration – Your vendor will guide you through how to move your data to your new platform, ensuring it's compliant with GDPR.  
Data upload – This will involve uploading your data onto your new system, checking there are no mistakes and that formatting is correct.  
Training – Your vendor will then provide some form of training. This will depend on the package you select and the level of complexity your integration requires.  
This is the four-step implementation process we adopt here at PeopleHR, but HR system implementation plans may differ depending on provider.  
Next steps
HR software implementation can be as simple or complex as you need it to be. Small to medium-sized businesses (like most of our readers here at PeopleHR), will require a simpler set up, rather than a full-scale integration. Therefore, the set-up cost will be very small (if anything at all). Often, the price you pay per user, per month will cover the cost of implementation.  
Be sure to check out our four-step HR system implementation plan as mentioned previously, if you would like to find out more about PeopleHR's implementation steps – and don't forget to watch our 4-minute demo to learn more about our software, and whether or not it's a good fit for you.