The words 'HR' and 'challenge' seem to go hand-in-hand these days. Today's workforce is becoming more dynamic and diverse, and this presents a new set of HR challenges for anyone tasked with the management of such operations within your business. 
Needless to say - conventional HR strategies are just not as effective.   
These days, businesses (particularly those in the small to medium market), need to step up their HR operations to manage their additional workload whilst attracting and retaining talented employees. Bottom line: your HR software needs to be firing on all cylinders. 
Here at People HR, we're realistic enough to know that, overall, it's difficult to find the perfect HR software with absolutely no challenges. The implementation of any software will require an adjustment period for your team. However, there are certain challenges that are avoidable, and in this article, we'll lay out 7 of the most frustrating we often hear about and explain how you can avoid them.
1. My HR System has no scalability
If you asked a business owner what they'd like to achieve in the next five years, nine times out of ten, they'd say, 'business growth'.
Your business may look completely different in five years' time.
So, your HR software needs to grow with you. Businesses are constantly changing – whether you're expanding or downsizing, and your HR software needs to be receptive to these shifts.
7 Signs your HR software/system isn't scalable:
You still rely on manual payroll systems
Your software systems don't sync together
Your employees are self-reporting their work hours
You aren't prepared for remote workers and contractors
Your recruiting process is out-of-date
You are the only one who knows how to manage your HR system
You don't audit your HR processes regularly
Therefore, when you evaluate your list of 'top 5' HR software providers before making your decision, always ensure the following features are top of mind:
Payroll integration
Self-reporting
Management of remote and contracted workers
Recruitment tools
Data and analytics
Key takeaway: You need a streamlined system that lets you thrive as you scale and grow, to avoid HR software challenges.

2. Limitations & lack of integrations with HR software
As we mentioned before, no HR software is perfect. Therefore, you should have a list prepared with your expectations of the product and its application. This will allow you to address any limitations and HR challenges the software might have when implemented within your organisation.
One of our Business Development Managers, Dan Mizon, comments: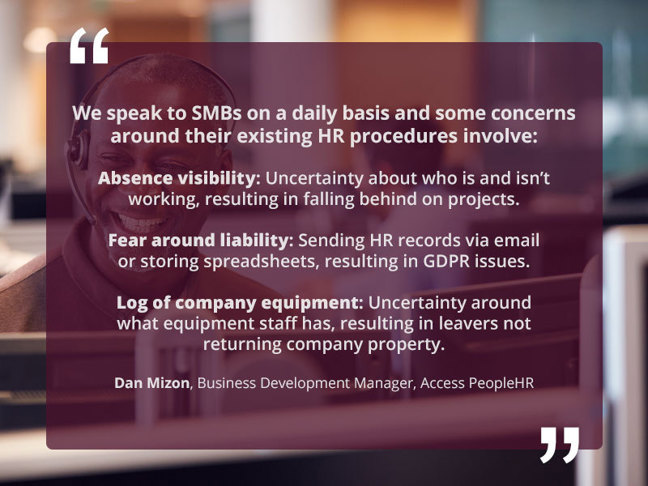 Integration and reporting are also some of the missing features and system limitations we regularly hear about. For larger businesses, this can result in clunky, restricted HR software that actually hinders, rather than empowers, your operations.  
When considering HR software, ask yourself:
Is it easy to customise the product's features?
Are the product's modules integrated effectively?
Will your product provide all the reports your business will require?
3. My HR platform has data capture but no reports
One of the primary functions of HR software is the ability to provide data – so you can improve your processes. But if you find yourself manually creating reports, you don't need us to tell you how laboursome it can be. Many people we speak to – when discussing their existing HR software – is an inability to create reports, and this is one of the biggest problems with HR systems.
Your HR software should develop and export intuitive reports within a matter of minutes. This will allow you more time to analyse and take proactive action towards creating and achieving your goals.
When selecting your HR software, it's crucial you select a platform that has reporting functionality built in. More advanced reporting software even allows you to drag and drop key information on the stats and facts that matter to your business.
4. Lack of employee satisfaction
What's central to any HR initiative? People, of course. Your HR software should work hard to improve employee satisfaction: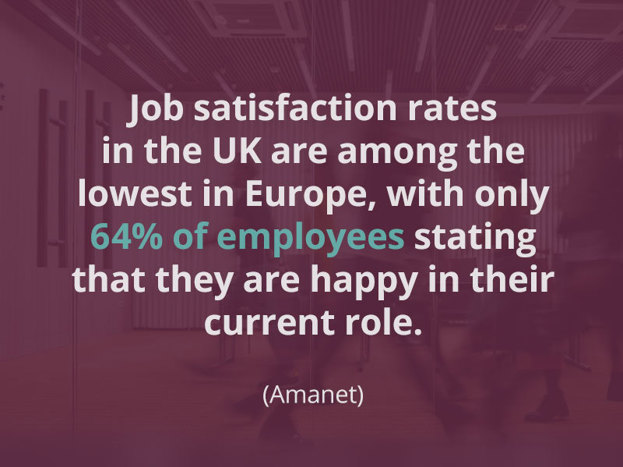 With that in mind, your HR software should offer a good degree of performance management to empower, motivate and inspire your staff. Things to look out for:
The ability to create a performance review schedule

– One of the biggest drawbacks to outdated HR systems is the inconsistency it creates around performance reviews. A performance review schedule helps managers conduct regular reviews with every employee.
The ability for employees to set, view and amend their performance goals via an app – A mobile app is a great way for your workforce to keep track of their personal goals in an efficient, timely manner.
Performance review templates – This can be an effective time-saver, allowing users to set up reviews by selecting a premade template, which can be customised according to job function and level of responsibility.
Notifications for users when changes are made to their performance management dashboard – This feature keeps employees in the loop, so they can action comms efficiently.
Key takeaway: Provide your employees with the ability to self-serve and be fully in control of their performance. An employee who is invested in their development is a happy one.
5. My HR software is desktop only
If the COVID pandemic has taught us anything it's that we need to adapt. And this new culture around working from home will require organisations to change how they communicate with their workforce. Mobile-friendly HR software can give professionals the ability to make decisions on demand and on the go, improving efficiency and allowing more time to spend on strategic workforce planning – rather than admin work.
A mobile application can group HR processes, such as viewing payslips, time entry, holiday requests and so on, in an accessible place. For workforces that aren't primarily desk-based, this is much more convenient. For example, a construction worker who spends most of their time on site won't have access to a computer, making a desktop-only system redundant.
A desktop only system is one of the key HR software challenges for employees who don't have access to a computer. So, if your HR system is desktop only, consider the increased flexibility, improved communications and enhanced accessibility that a mobile-friendly HR system can bring.
6. Poor implementation
You've selected your software; you've managed to get everyone on board with this new way of working and now comes the tricky issue of implementation. Poor implementation can put a damper on what should actually be quite an exciting time for your business – as it moves away from cumbersome, manual HR operations. 
Common HR challenges we hear about here at People HR regarding implementation are:
Implementing software without an understanding of your team's needs
Migrating data, ensuring it's ready for when you start and that it's GDPR compliant
Poor support from your provider during implementation
So it's absolutely necessary to ensure your chosen provider has a clear implementation process. 
But, what does this look like?
How to avoid HR system/software implementation problems
At the very least, you should expect one-to-one support with a technical expert (i.e. your point of contact) during the initial set up. And as a follow-up, you should be provided with 'how-to' guides and a knowledge bank to help you become as self-sufficient as possible. 
Traditionally, implementation should involve:
Data migration
Data upload
Training for you and your team
And the rate by which this happens is down to the size of your company and the type of software package you choose.
Successful implementation isn't just down to your HR software provider, however. As the person flying the flag for HR within your business, your team is relying on you for a smooth transition and some reassurance during this time.
7. Customer support
Last but not least, customer support. It's one of the final big HR software challenges. You've signed on the dotted line, you've been through implementation, but now what?
What happens if you get stuck? What happens if something isn't working in the way it should?
You need to be sure that there's a personal point of contact, readily available, to help alleviate any issues you're facing. Your chosen provider should also have knowledge banks, articles, videos and FAQs to allow you to self-serve as much as possible.
Sadly, poor customer support is only realised once you've taken the plunge, so it can be a tricky one to call prior to implementation. We suggest reviewing your chosen providers' testimonials and case studies. This should give a clear indication of what customer support and aftersales is really like after implementation.
Next steps
HR software shouldn't limit your business; rather, it should empower it. And whilst the implementation of any new business initiative will come with a steep learning curve, your provider should help you during this phase and provide the best service possible.
And if there's one piece of advice we can give you to avoid hr software problems, it's this: do your research to AVOID making these mistakes before it's too late. We believe the perfect HR system is one that caters to your business' unique needs. 
Yes, there may be adjustments.
No, people aren't going to love it straight away.
…but the right software will improve business efficiencies no end.
If you want to move along further in your journey, why not take a look at our HR software pricing. There you'll find heaps of information on what you're likely to be spending on a HR system.
Or, if you're ready to make the next big step and shortlist People HR as a provider, feel free to head over to watch a 4 minute demo.