Topics we'll be covering about how HR software can reduce business costs and support employees:
If you landed on this page, chances are you're curious to learn how HR software reduces business costs. That's not surprising - with the cost-of-living crisis and UK inflation rates at its highest level in more than 40 years, many businesses will be evaluating their expenses.
However, when it comes to HR, cutting costs shouldn't come at the detriment of employee wellbeing. Afterall, HR, by definition, should be focused on supporting employees. So, how can both objectives (business savings and employee wellbeing) be achieved in such challenging times? 
With HR software, it's a case of subtraction by addition. In other words, you will be required to make an initial investment before you reap the rewards – and you may not be ready to consider HR software if you're not prepared for this reality.   
In this article, we'll take an honest look at how HR software can reduce business costs and support employees. If you have any questions after reading, don't hesitate to get in touch with one of the experts here at People HR. 
Let's get started…
Automating manual HR tasks
When addressing how HR supports business, we'll begin with automation. Most modern, successful businesses understand the balance between working hard and working smart. And if you've ever been completing a task and thought to yourself, 
Can we automate this process?
Then the chances are, you probably can.
For small businesses, making this observation can be pivotal to success, especially when it comes to HR tasks. By automating some of your HR processes, you'll have more time to focus your attention on building a great company culture – one destined for success.
Five repetitive HR tasks and basic HR processes that can be automated through HR Software:
Now, different companies will have different priorities. You may choose to only automate some of these processes, but the point here is clear:
Automating just some of these tasks can enable small businesses to save on time and costs they'd usually spend on manual HR tasks. This means more efficiency… and fewer errors. Visit our HR software for Small business guide to learn more.
Getting the distinction right between what to automate and what NOT to automate is key
Automation isn't the only answer to how HR software reduces business costs and supports employees – rather, a small component of it. And there are certain activities that should never be automated.
These include: 
Your face-to-face (or virtual) check-in
Coaching and mentoring (not training)
Driving behaviours and culture 
When you get the balance right between what to automate and what not to automate, you'll find that those face-to-face interactions become more meaningful and purpose-driven.
Streamlining recruitment
If you've ever been responsible for recruitment, you'll know how expensive it can be to your business at any time, but more so during the cost-of-living crisis. Let's not also forget the knock-on effect that COVID is having on small businesses, many of whom were badly impacted. Bottom line: by improving recruitment efforts you can save costs. 
Typical recruitment costs can include:
Job board fees 
Advertising costs 
Recruitment agency fees 
Internal recruitment expense 
Invisible business costs (such as time taken out of managers' busy schedule to complete interviews, onboarding etc)
The cost of making the wrong hire 
Glassdoor highlights that the average employer spends around £3,000 and 27.5 days to hire a new worker. With that in mind, it would be hard to argue that, by improving recruitment efforts, you will save costs.
How can HR software streamline recruitment… and save money?
One of the biggest drains on time is the sorting and managing of applicants, especially if you're placing job adverts on numerous platforms. Many HR systems now come with Applicant Tracking systems. This helps recruiters sort, manage and shortlist candidates. 
More advanced applicant tracking systems will centralise applications, CVs and shortlisted applicants so you can access them at a click – rather than sifting through reams of files and documents.  
Not only will this save time, but it'll prevent you from losing any great candidates that might fall through the cracks, amongst the sea of paperwork.   
Useful HR software features to look out for include: 
Interview support. Some HR systems now have 'video interviews' enabled, which involve audio and video questions for candidates to answer, prior to the formal face to face interview.
Mobile compatibility. Many job seekers are searching for their next career via their smartphone. Therefore, mobile functionality is a desirable feature to note. * 
Integration. If you currently have other HR systems in place, you want to ensure that your recruitment software will seamlessly integrate.  
* If your chosen HR software does have mobile functionality but poor user experience, it could hinder your chances of attracting the best talent. Ensure your HR software provides mobile functionality with a good user experience.
Reducing HR errors
When considering how HR supports business, it's important to recognise that HR is a complex area and errors can happen. With small businesses, the risk of error is amplified, particularly if HR is one in a long list of responsibilities you have.
Seven common HR errors that typically occur with small businesses: 
Payroll discrepancies 
Failing to keep up with tax changes 
Losing or misdirecting payslips 
Failing to track employee performance
Failing to notice when employees are unhappy or unproductive in their role
Not recognising sickness patterns or managing unplanned absences
Failing to observe when staff are clocking in late or early 
You'll see that many items on the above list are around pay – and with good reason. At a time when everyone is concerned about the cost-of-living crisis, ensuring your staff get paid correctly AND on time is a necessity. In fact, making a mistake where pay is concerned can destroy morale almost immediately, leading employees to lose faith in your company.
Therefore, HR software with payroll integration is a serious consideration if you want to maintain the support of your employees, particularly if your company has more than twenty members of staff.
How can payroll software help you reduce HR errors?
Payroll software helps reduce HR errors by automating manual tasks such as data entry to ensure staff get paid accurately and on time. When searching for HR software, added payroll software integration is a crucial consideration.
Boosting morale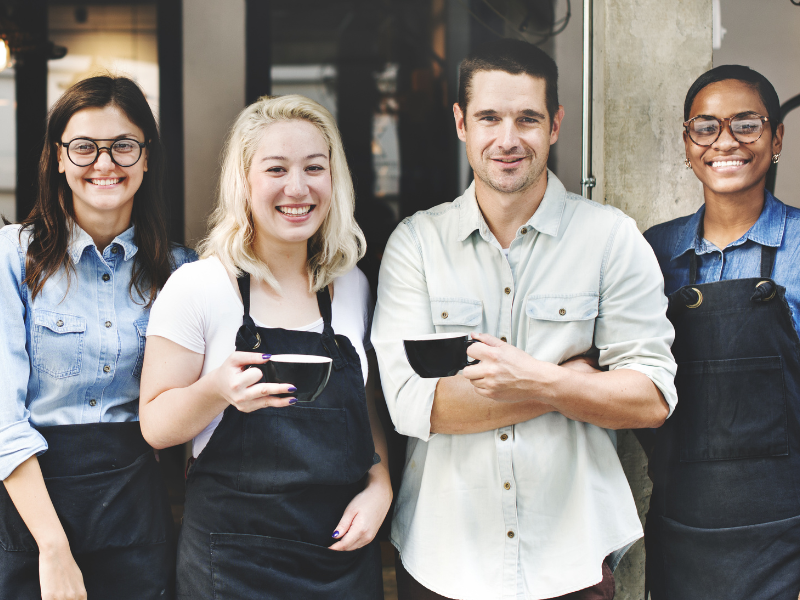 At a time when people are concerned about their livelihood, a lack of morale amongst your team can be unavoidable. But employee support is something you can control. So, showing an awareness for staff training, support and progression will go a long way in ensuring your employees feel valued.  
And that's where performance review software can really help your team to stay engaged and focussed on their own progression and the growth of the business. Some top features to look out for when assessing a HR software's performance review options are mentioned below.
How HR Software can support employees:
Efficient performance review bookings, allowing you to create a performance review schedule.  
Goal setting to allow your team to set view and amend their own performance goals from an app that they control.  
360 feedback capabilities which include premade templates to set up reviews based on job function, level of responsibility and more.
Notification functionality which automatically triggers emails to notify users when changes are made to their performance management dashboard.  
It seems simple, but the best way of supporting employees is to demonstrate that their work (and wellbeing) is valued and their progression is important to you.
Saving on office expenses
When considering how HR software reduces business costs, it's also important to note that by digitising your HR processes, you can make savings in office expenses – particularly around paper, stationary and printing. These seemingly small expenses can soon add up, not to mention drive up your carbon footprint.
HR software may seem like a costly initial expense, but the more SMBs go paperless, the more it can lead to significant cost benefits in the long-term, since a lot of data will be migrated online. And as a small to medium business owner, it's important to see the longer vision, especially if you're looking to expand.
According to bionic, a small business can spend on average £870 per year on stationery. If you're hitting anything near these figures, it's easy to see why office stationary is classed as a 'hidden expense' that creeps up on you.
Conclusion: Reduce costs and boost employee morale with HR Software
HR software shouldn't limit your business. In fact, it should, no matter what the situation, reduce your business costs and keep employees happy.
Hopefully by now, you'll see that the two go hand in hand (reducing cost and increasing morale), and a combination of HR software features can go a long way in supporting your business. By reducing time spent on manual tasks, you will free yourself up to focus on what matters: the growth of your business AND the people who help you deliver that growth. And during this tumultuous time of uncertainty, HR software can be instrumental in fuelling such growth and employee morale.  
To Recap, it can: 
Automate manual tasks 
Reduce HR errors (especially around payroll) 
Provide a platform for self-improvement
Save money on office supplies 
Every business is different, and what's 'essential' to some businesses may not be to others. For example, your staff development plans may already be on point, but your payroll functions may need to be supported. And that's ok… Your chosen HR supplier should recognise this and provide a solution based on your needs.
Don't forget, you can always watch a 4-minute demo if you'd like to explore the People HR software in further detail.