A term we often come across here at People HR is, HR software Vs Excel spreadsheets. Small businesses are always looking for ways to work smarter and optimise their resources – so it makes sense to evaluate all options available.  
Whether you're an office manager, HR professional, CEO – or all three – Excel has likely been a big part of your day-to-day for years. Love it or hate it, it has, and still is, serving a vital purpose for the managing of data within your business.
But, as technology develops, you might be interested in learning more about alternative ways to manage your HR operations – with HR software being one of them.
In light of this being an 'honest comparison', this article aims to cover the benefits of both HR software and Excel spreadsheets, helping you form a decision on what's right for your business. Here at PeopleHR, we understand that timing plays a huge role in your business decisions, so whilst HR software is our gig, we know that it's not the solution for everyone.
With that in mind, let's begin our honest comparison…
What HR processes are important for my small businesses?
Getting the distinction right between what HR processes are important for  small businesses – as opposed to larger organisations – is crucial here. Small business HR and large business HR can differ several ways, for example:
| | | |
| --- | --- | --- |
|   | Small business   | Large business  |
| Specialist areas  | Tend to deal with everything, from recruitment and onboarding to payroll and compliance.  | Likely to have several departments that specialise in different areas.  |
| Processes  | Processes might not be as well established and will often be managed by one person.     | More formal processes and procedures in place, as well as support from a dedicated HR team.  |
| Connection to overall business  | The person responsible for HR will likely know how the business is doing and how their decisions will impact the bottom line.  | HR is often not as connected to overall business outcomes.  |
Key takeaway: small businesses and large businesses face different challenges. Large businesses may only have a need for one or two facets of HR (such as payroll and recruitment), whereas small businesses may benefit from an all-encompassing platform with a multitude of add-ons. So, when considering HR software (and what you need it to do for your small business), be aware that your needs will differ from others'.  
Let's take a look at specific HR processes that may be important for small businesses, Note: Not everything will be applicable.
This is a general list of features to consider:
Before deciding whether to transfer from Excel spreadsheets to HR software, you should have a clear understanding of the HR processes that are important to you.
What are the benefits of using Excel spreadsheets?
Since its inception in 1985, Microsoft Excel has been synonymous with HR departments as an easily available and inexpensive tool to manage employee information. And whilst it does require someone who understands how to input formulas and format databases, its benefits are not to be ignored.  
A 2021 Oracle report stated that 56% of organisations still use spreadsheets, highlighting how popular the software is, despite its level of complexity and manual entry requirements. 
Let's take a closer look at the benefits of using Excel spreadsheets:
1. Excel formula provides useful functionality
There are many formulas in Excel you can draw on to help your HR processes. These include formulas for length of service, salary calculations and filtering tools (for names, job types and so on).  
Data functions include TODAY, DATEDIF, COUNTIF and SUMIF, which are all helpful, as well as data validation, VLOOKUP and pivot tables.  
However, to access these functions, it does require someone well-versed in the use of Excel. So, unless you have an Excel whizz within your team, you may be missing out on some of its more advanced features.  
2. It's a low cost solution
One of the key benefits of Excel – particularly where SMEs are concerned – is its low cost. A small business will always be looking at ways to reduce its expenses, particularly in today's climate, so overheads need to be taken into account. 
A Microsoft 365 Business Basic package starts at £4.50 per user/per month, and this rises to £16.60 per user/per month for the Premium Package. Of course, when you purchase Microsoft 365, you get the entire suite of office applications (e.g. Word, PowerPoint, etc) and with the Premium package, you also get advanced security, data control and cyber threat protection. 
However, whilst a low up-front cost may be preferable to a small business, this does not solve the issue (and hidden costs) of manual data entry and human error associated with Excel spreadsheets- both of which can be hugely time-consuming and costly for a small business.   
There are no two ways about it: When compared to Excel, HR software will lead to increased productivity and streamlined work, meaning more long-term savings for your business. It's just a question of whether your budget will allow for it. We've written a useful guide on the cost of a HR system.
3. It's familiar and well-known
Changing to a new software system can be daunting, and the familiarity of Excel spreadsheets can make smaller businesses feel at ease; it's almost like a comfort blanket. You know what it can do, you know its limitations and you know where you stand. Why change? 
Small businesses have their fair share of challenges to deal with – and what may appear to be a 'minor adjustment' for a larger business, can send shockwaves through a smaller team, so it's understandable to want to avoid anything that may cause an upheaval.  
If you do decide to ditch the spreadsheets and implement HR software, you should do so with a supporting provider who'll help you manage the transition seamlessly – at a time that's right for you.
4. It's widely accessible
Finally, Excel is accessible. There are hundreds of courses available online to help you navigate the often-complex world of Microsoft Excel – so with a bit of patience, you will be able to access the platform at a basic level.  
Though, if you want to actively use the spreadsheet – say to update data – then training will be necessary. Nonetheless, most professionals will easily be able to interpret the data presented to them in a spreadsheet, which is why it is considered accessible for many businesses, big and small.
What are the benefits of HR software?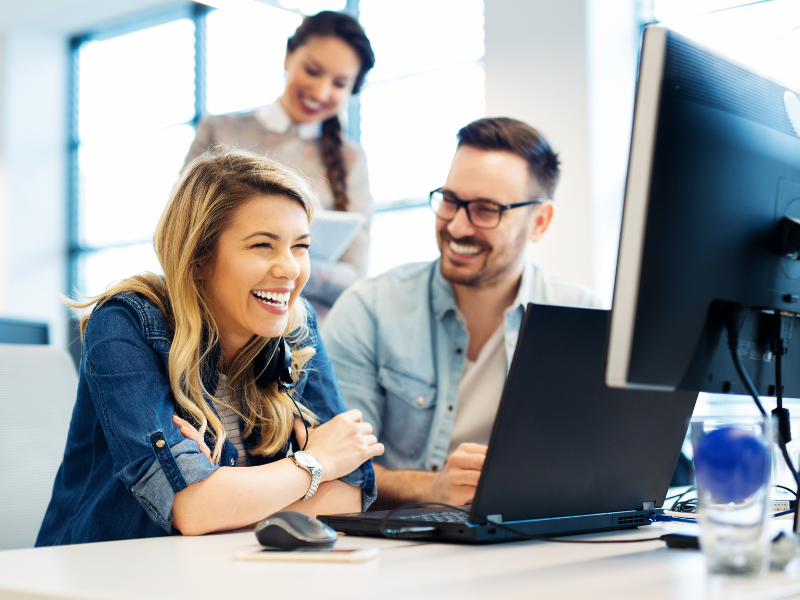 We're now going to flip the coin and discuss the benefits of HR software for SMEs. Whilst the benefits of Excel are abundantly clear, HR software can help to 'plug the gaps' left behind by spreadsheets (i.e. time-consuming data entry, human error…), improving productivity and leading to long-term growth for your business.  
Let's look more closely at the benefits of HR software.  
1. Improved data security
HR software is designed for GDPR and data compliance, and this can be difficult to achieve with Excel spreadsheets. Often, spreadsheets are saved in a central location – accessible to anyone within an organisation – increasing the risk of data breaches.  
So, how is HR software designed for GDPR and data compliance?
With HR software, measures are in place to protect your data using authentication, encryption and security protocols. This ensures your information is secure at all times.
2. Streamlined workflows
If you're in charge of HR, you're likely to be managing large volumes and varieties of information – all of which are highly confidential. You may have paper employee records and contracts stored in a filing cabinet, HR software to manage absence requests and an intranet for managing job applications…  
All these combined result in a huge number of data silos with little or no communication between them. Searching for the information you need can lead to significant time wasted.
Therefore, it's vital you have information management operations in place to ensure consistent workflows.
HR software can solve these issues by easily integrating with other HR processes and software, leading to streamlined workflows which improves efficiency across your organisation.
3. It's scalable
Excel spreadsheets might just about be manageable for your small team of ten, but what if your company scales up? Your team of ten managed by one person may grow to twenty and then hundreds. Before you know it, you'll be managing dozens of spreadsheets – neither of them managed in real-time – with no one knowing who has the most up-to-date version.
Not only is this stressful, but it can also be time-consuming AND a security risk. In comparison, HR software is scalable. Many platforms provide a clear and simple pricing structure that's very affordable. In many cases, you can build a package that works for your business needs, and the cloud-based software will provide more features as and when you need them.
With HR software, you can be confident that, as your staff grows, you'll be able to cope with increased demand – with additions such as payroll, recruitment, reporting, appraisals and so on – making business growth stress free and your staff (old and new) happy.
4. Increased productivity
HR software can lead to increased productivity since you won't be filling your day tracking sickness, approving holiday requests, updating employee information and compiling turnover reports. Instead, HR software will automate those repetitive tasks that take up time. 
Furthermore, most HR software can make your whole workforce more productive – especially if it provides mobile and self-service functionalities – which are ideal for onboarding new employees and upskilling existing staff.
Additional HR integrations (like recruitment and payroll) which are available with more premium packages can also make you more productive and streamlined.  
5. Reduced risk of human error
Spreadsheets rely on manual entry, and any incorrect information or data loss as a result of human error can cause serious headaches for your business. Most studies put data loss rate due to human error at around 25% for businesses, according to Steadfast.  
Human error doesn't just come in the form of incorrect data entry, though. Forgetting to address employee development because you're swamped by other commitments is also an error.
Both challenges above can be addressed (and eliminated) with HR software. At its core, HR software automates those monotonous manual entry tasks that lead to errors – such as staff absences, holiday requests and time tracking. And more advanced software features include staff appraisal and feedback functionality, as well as payroll integration to ensure your staff get paid correctly and on time.
You will know more than anyone: the margin for error in HR is great, so reducing the risk of human error is probably high on your priorities – and this is possibly one of the biggest advantages when considering HR software vs spreadsheets.
HR software vs Excel spreadsheets: The verdict
You might be surprised to see that we're not just simply answering, Why is HR software better than excel? That's because it depends on your individual circumstances, and both have their place.
In fact, if you speak to any of our sales reps here at People HR, they are often the first ones that will tell a potential customer that our solution isn't right for their business at this time.
When considering HR software vs spreadsheets, there's no denying, both have their merits. Many small businesses will manage perfectly fine with Excel, and if you're happy with your existing set-up and don't anticipate business growth in the next three to five years than we'd suggest sticking to your spreadsheets.
But for scaling businesses, it's difficult to deny the benefits that HR software will bring, both now and in the future. Many businesses only realise they need HR software when they're either drowning in a sea of paperwork, wasting time on manual tasks, or worse – not paying people on time (or correctly)!
If you fall into the latter category and would like to find out more about HR software, you can watch a 4-minute demo of PeopleHR to assess whether we might be a good fit for you.