Topics we'll be covering in the Annual Leave Report 2023:
Everyone enjoys - and also needs - time off from work. Annual leave is a fundamental right granted to employees, to help prevent burnout, reduce stress, and maintain their overall mental and physical health.
A lack of holiday days can contribute to decreased levels of productivity - as employees can often only work so long without a break before it starts to affect their work quality. Staff need time off to relax, recharge and return to work feeling refreshed and rejuvenated. HR software can help employers and employees to manage holiday requests with ease and ensure annual leave allowances are being utilised.
Plus, failure to take enough annual leave can also lead to rises in sick leave, too, due to heightened levels of stress.
Taking holiday sounds simple - but not everyone is taking their full entitlement, according to our research. Employers also have zero obligation to allow staff to carry over their holiday allowances every year - so in some cases, staff can be missing out on several days' worth of hard-earned annual leave.
Key highlights: The status of annual leave in the UK
Access PeopleHR has conducted a study of the annual leave habits of over 3,000 companies and 122,000 employees to reveal that:
The total number of annual leave days has dropped 2.7% in the last two years, despite holiday entitlement rising by 16.5%.
The average taken per employee is at 37 days, including annual bank holidays.
The utilities industries are experiencing the worst falls in annual leave being taken - despite a rise in entitlement by up to 18%.
Which industries had the biggest drops of people using annual leave?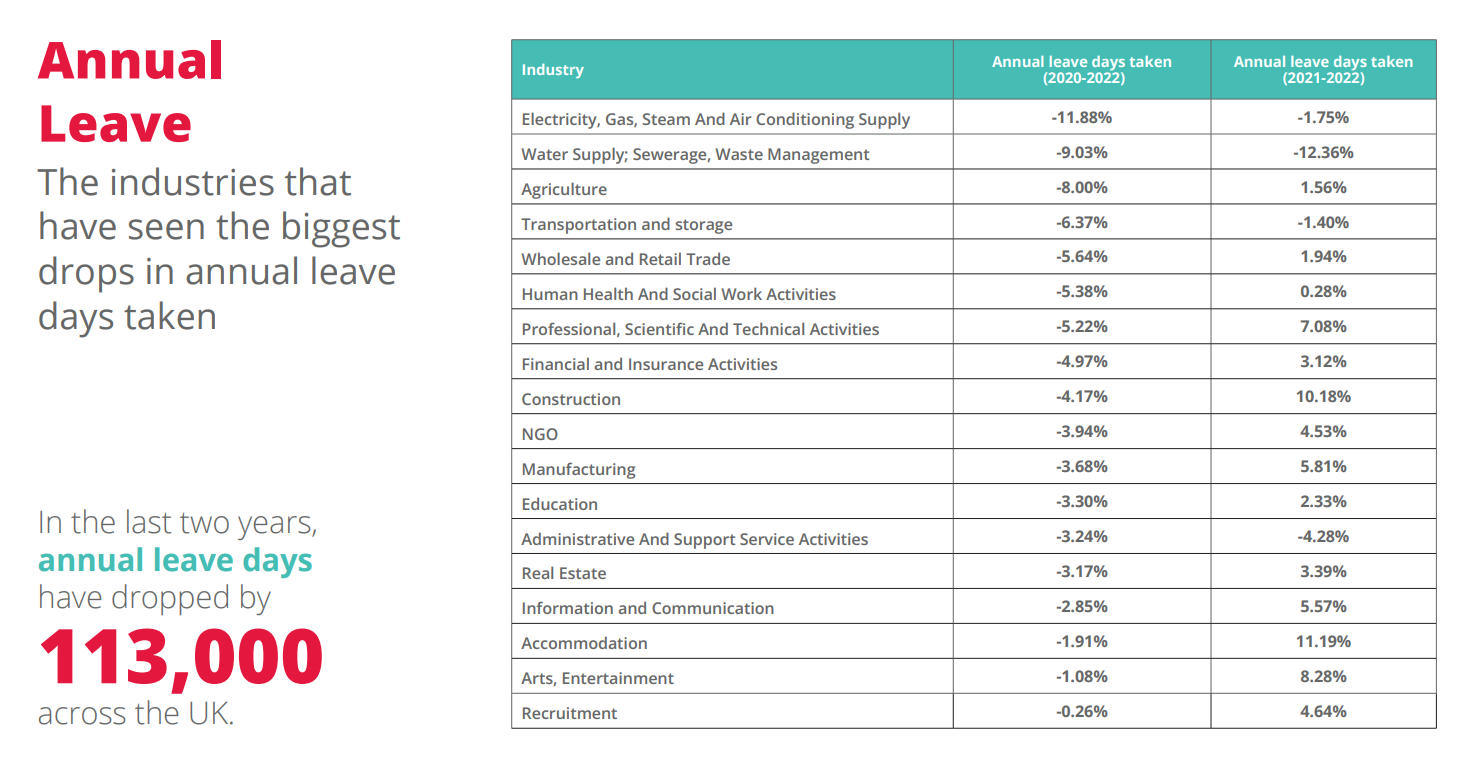 According to our research, all industries in the UK have seen a major drop in annual leave taken in the last two years - despite the fact that, overall, allocation has jumped by 16%. In 2020, the average entitlement of annual leave was 29 days, including bank holidays. Now, it's 34 - a jump of a whole working week in allocation.
In the electricity, gas, steam and air conditioning supply industry, there's been an 11.88% drop in the number of annual leave days taken. Yet, staff are being encouraged to take more and more days off - with the average entitlement jumping to 37 days, up from 31.8. This could be due to the critical nature of these services, with a spotlight on the industry amid rising energy prices potentially creating pressure for employees to remain available at all times.
The water industry didn't fare much better, either, with a drop of 9% over the last two years in annual leave taken per employee, and 12% in the last year.
Other sectors that saw a decline in annual leave taken include those working in retail and wholesale, where staff holiday days have dropped by 5.6% from 39 to 36.8 days, despite a 16% rise in annual leave allocation.
Retail employees often face peak seasons and high customer demands, which could contribute to employees' reluctance to take leave during busy periods. It may also be that some bosses set restrictions on when retail workers can take time off, such as limiting leave during December.
The transportation and storage sector saw a huge 18% increase in annual leave entitlement, but a 6.3% decline in leave. The industry operates around-the-clock, and as such, employees may find it challenging to take time off without disrupting essential services.
Employers must recognise that a workforce that feels supported in taking leave when needed will lead to increased productivity, job satisfaction and reduced turnover rates.
Those in recruitment fared the best, with a drop of just 0.26% in comparison to the others. In our recent Sick Leave Report, those in the recruitment sector also took the fewest days of sick leave, in what could be a sign that the industry's crackdown on holidays is leading fewer people to take time off for ill health.
Entitlement in the arts industry also rose the most, by over a fifth (21%), with the average employee having 36 days of annual leave, up from 29 in 2020 and 31 in 2021.
Holiday entitlement growth - an industry-breakdown
All industries have seen a growth in annual leave entitlement allocated in the last two years, in particular the arts, entertainment and health and social sectors.
While staff are being offered more annual leave across the board, it can become redundant if it's not being taken - no matter the reason.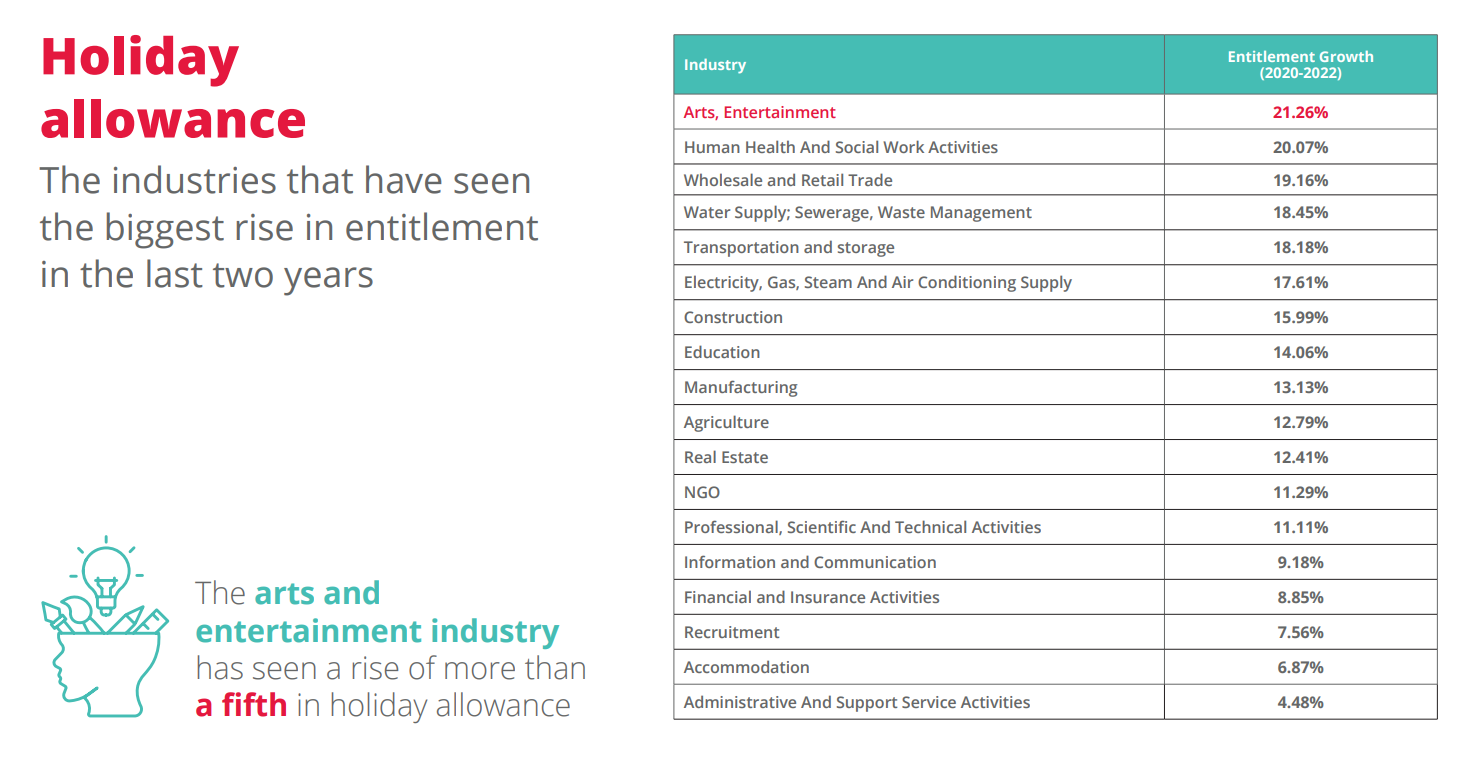 When are the most popular days for annual leave?
The Access PeopleHR study also looked at the most popular days for Brits to book annual leave, besides days around common bank holidays, factoring in the bank holiday for the coronation of King Charles III in 2023.
The 19th September is the most popular day to book annual leave, with over 114,000 people booking off the day in 2023, followed by 22 and 21 December, 30 May, 4 May and 26 and 19 August.
Most popular days to book annual leave in 2023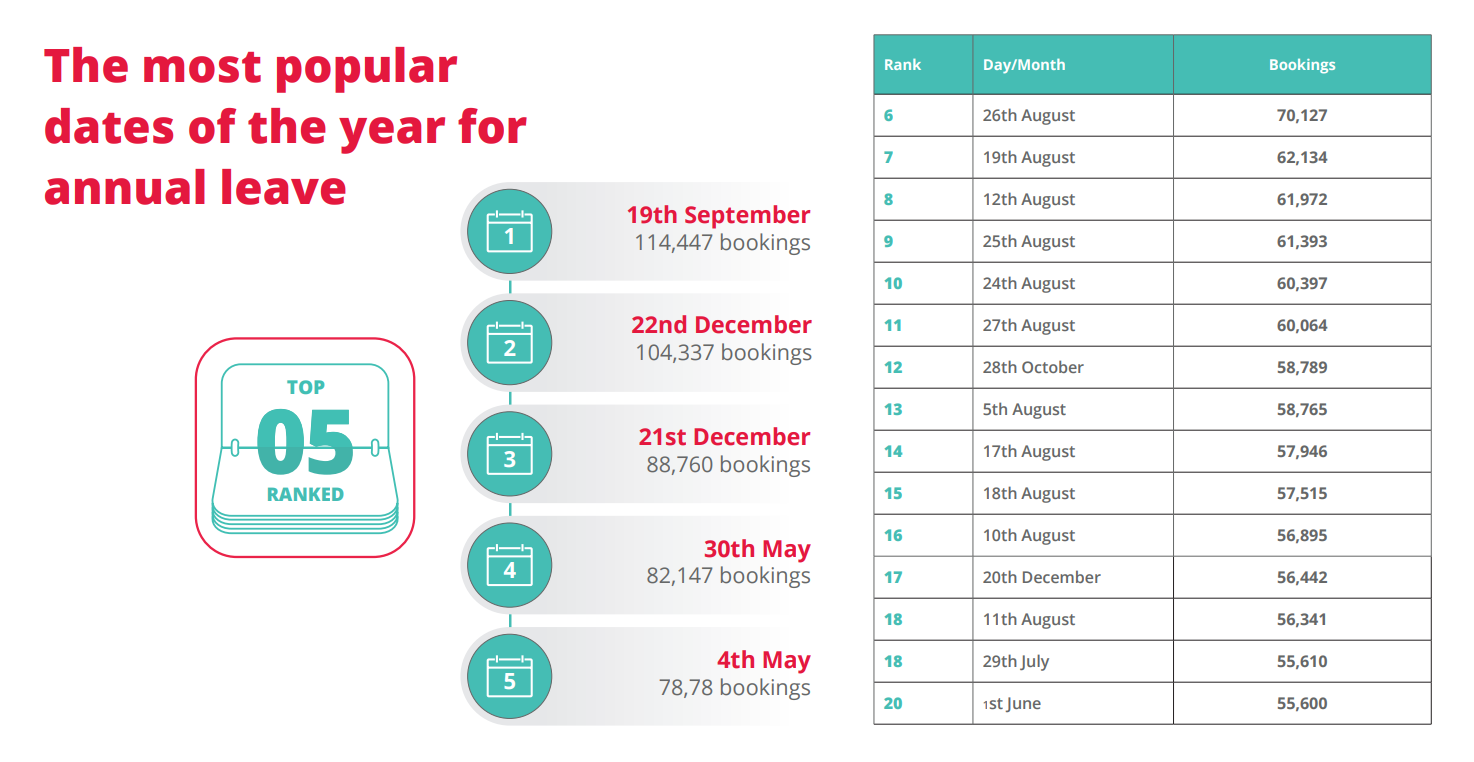 What reasons are there for the decline in annual leave uptake?
Work culture and expectations: In many industries, if employees feel overworked, they may prioritise work commitment over personal time off.
Staff shortages: If people are experiencing a high workload, it may create pressure on employees to remain constantly available, making it challenging for them to take leave without compromising productivity.
Peak times: Industries with seasonal work patterns, such as retail, accommodation and hospitality, may limit employees' flexibility in taking time off during peak periods.
Blurred lines: Advancements in hybrid work following the coronavirus might blur the boundaries between work and personal lives, making it challenging for employees to disengage and take leave.
Fear of falling behind: Competitive industries like finance, technology, and professional services may foster a culture where employees fear falling behind their peers if they take extended breaks.
Unlimited annual leave: For some people, the limitless choice afforded by 'unlimited leave' as a perk can be more overwhelming - and cause people to take fewer days off, not more.
How can businesses help to ensure all annual leave is taken?
While you can't tell your staff when to make plans throughout the year, you should have a system in place which monitors how much annual leave your staff have taken, when it's planned for, and how much allocation is left.
This way, HR software can alert you throughout the year to view, log and update holidays in an instant. You can make the process of submitting holiday requests easy by allowing staff to do it from any device, along with providing insights to managers on any potential issues, holiday clashes or updated information on the holiday year.
Maintaining productivity, especially in busy periods, will be more manageable, and you can give staff as much notice as possible to prevent problems arising. You can also alert staff throughout the year when you need to nudge them to make sure their annual leave is booked in ahead of time.
It's also critical that you ensure that your team fosters a sense of encouragement and enthusiasm for taking annual leave - to prevent a culture of fear around booking holidays.
Charles Butterworth, Managing Director - Access People, commented on the research:
Whether it's financial worries, busy work schedules or simply not having enough booked in your calendar to justify annual leave, there's hundreds of complex reasons why some staff may not be utilising all of their annual leave.

This report into the current status of annual leave across multiple industries in the UK highlights how important it is for employers and companies to have a stringent HR system in place that makes it easy for staff to book holidays, but also simple for managers to spot those that haven't booked enough, and encourage them to set aside dates in the calendar for time off.

The fact that holiday entitlement has grown so much in recent years is promising, however it will become pointless if they're seen as job perks - but people are too busy to take them. Companies need to take action to identify the reasons for the lack of holiday requests, and ensure that they implement ways of working that rectify this.
If you're considering new HR software to ensure you have full visibility of annual leave across your organisation, you can find out how to effectively prepare for your HR software implementation in our guide for SMBs.

ENDS
Methodology
Access PeopleHR looked at the absence leave data taken from 122,000 employees at 3,175 companies, in 18 sectors. It took data for the full years of 2020, 2021 and 2022 to understand the correlation between each year.
Data correct as of July 2023.