But before we dive into the specifics, let's address some of the reasons why you might be reading this article.
Chances are you're feeling the pain of manual HR processes that are taking up too much of your time.
Maybe you're tired of spending hours updating employee records or handling time off requests?
Maybe you're looking for a better way to manage payroll and personal information for your employees?
Here at Access PeopleHR, we hear of those challenges on a regular basis. Afterall, most SMBs want to achieve two key things: workforce efficiency and a team that feels empowered. Self service HR can help you achieve those goals. But it's useful to understand what is ess, and how it works, especially if you're new to the concept.
What Is Employee Self Service (ESS)?
Employee self-service (ESS) is a technology that allows employees to access, view and manage their personal and job-related information. It encompasses a range of categories, including IT, finance, and HR self-service. 
Looking at those categories in further detail: 
IT self-service

.

This helps employees resolve technical issues relating to IT, as well as request support. 
Financial self-service.

Here, employees can view payslips and other financial information. They can also update their banking information.

 
Self service HR

.

This is the most common form of ESS. It provides employees with access to benefits information, time off requests, and personal details. 
We are an HR self service platform here at Access PeopleHR. We provide a range of HR tools and services, including ESS, to help SMBs manage their HR processes efficiently. 
For larger organisations with more complex requirements, we recommend Access PeopleXD. This is a secure, unified system for those requiring more flexibility from their HR system. 
Understanding the ESS meaning is important for companies of all sizes. This is because it directly impacts your most important asset – your people. Giving them autonomy to self-serve can bring about numerous benefits to an organisation. We'll cover those details further  in this article. 
To summarise: 
The 'ESS meaning' refers to a system that allows employees to take control of their work-related information and activities. This reduces administrative workloads and increases efficiency. 
What is an Employee Self Service portal?
What is an employee self service (ESS) portal, you ask? It is an online platform that allows employees to access and manage their personal and job-related information. It an an extension of ESS and is the typical way in which employees can self-serve. 
In the next section, we're going to address the query – how to employee self service portals work. Before we go into that, it's useful to know that ESS is generally part of a larger HR system and integrates with other modules.  
These include:
Payroll and benefits 

 

Administration

 

Performance management

 

Time and attendance tracking

 
This integration provides a single source of truth for employee data. It brings all HR processes together reduces the workload for those responsible for HR within your SMB.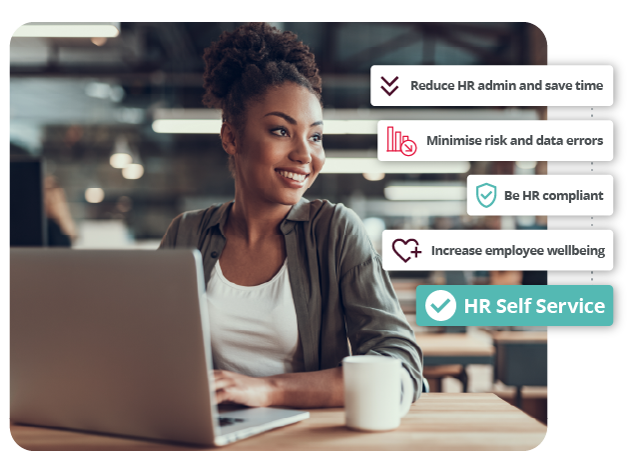 How do employee self service portals work?
Employee self service portals work via a company's intranet or their HR web portal. Users can access the portal via a login. This is provided during your HR system implementation. Once users login to the ESS portal, they will have the option to manage their job-related information. Most modern ESS portals now allow access via HR app.
This provides an even more enhanced (and comfortable) user experience. Employees will be able to update/change/view their information no matter what device they're using.
Employees can self-serve in many ways. You would normally expect them to view and manage: 
Pay information 

 

Benefits

 

Holiday requests

Performance evaluations 

 
You will, of course, have different requirements for self-service HR. We have only mentioned the more common features to expect. Factors such as size, industry and the specific goals of your organisation will help you determine your requirements. It is important to clearly define your needs before selecting and implementing an ESS portal. 
Most SMBs would likely require an ESS that's part of a 'plug in and play' HR system. This would allow basic functionality such as holiday requests, updating personal information and so on. Don't mistake 'basic' for low performance, though. There are some excellent ESS modules available for SMBs. These provide features such as document management, automation and so on. More on this later.  
Larger organisations my need added functionality, such as Manager Self-Service (MSS). This allows team leaders to pay closer attention to things like the performance and attendance of their teams.   
What features should Employee Self Service offer
We've covered 'what is ESS' and 'how do employee self service portals work'. Let's now take a look at some of the features you should expect from your self service HR. Whether you're a business owner or employee, you want a self-service platform that's user-friendly. Also, one that offers a range of features to make your life easier.  
Here are some of the key features you should look for in an employee self-service (ESS) platform:
Document management
You need a platform that allows you to easily upload, store, and manage all your important HR-related documents.
Centralised records
Your ESS should provide you with a centralised location for all your HR-related information. This means you can access everything you need in one place.
Automated tasks
An ESS that automates HR-related tasks, such as time off requests, can save you time and reduce the risk of errors.
Absence management
This allows employees to request time off, track remaining holiday allowance, and see approved time off in one place.
Performance management
The ability to view and manage performance evaluations and feedback.
Payroll management
Access to pay information, tax information, and other payroll-related details.
Benefits management
The ability to view current benefits and make changes as needed.
What are the benefits of employee self service?
There are several benefits of self-service HR. These include: 
Reduced workload for admin

 

Increased efficiency

 

Improved communication

 

Improved compliance

 

Increased cost savings

Improved employee satisfaction

Accessible anywhere, on any device

 
By implementing an ESS platform, you can enjoy these benefits and more. Your HR-related processes will become more efficient, cost-effective, and satisfying for your employees. 
We're now going to look more closely at some of the key benefits you can expect from ESS.  
Enhances remote working
One of the biggest concerns with remote work is a lack of communication. Afterall, if you've got a team dotted all around the country, how do you ensure HR is taken care of? How can employees book time off? How can they update personal information? How can you stay on top of performance reviews? 
In times gone by, this was fairly simple. An employee could knock on your door and make a request verbally. Not anymore. Without that physical contact, companies need to adapt their communication channels accordingly.  
So, if you're operating a remote workforce (or if you plan on introducing this benefit in the near future), you should consider the benefits of ESS.   
With self-service HR, employees can access their HR information and tasks from anywhere, at any time.  
This means you can communicate more effectively (and quickly) with members of your team. There's no need for employees to directly contact their line manager before requesting time off. If you're a 'line manager' reading this article, you'll know how much of your time this will free up. To find out more about the benefits of HR software for remote workers, read our article.  
Improves productivity and engagement
Your employees want to feel valued and connected to your company on a day-to-day basis. And you will know that employee productivity and engagement is crucial for the success of your business.  
Employee self service makes your employees' work lives easier and more efficient. They can easily update details and make requests and track the progress of their requests. All this can be done from their mobile device.  
The key word here is transparency. When employees can track their progress, view pay information and request time off easily, they'll feel more engaged in their work.  
And when you're more engaged, you're more productive. Everyone wins.  
Those responsible for HR within your company will also benefit from increased productivity. No more manual entry. No more miscommunication about time off requests. No more delays in updating important information. This frees you up to focus on more strategic tasks.   
If you are struggling with engagement, head over to our employee engagement software page. 
More accuracy, less errors
As a business owner or office manager, you know that accuracy is key when it comes to managing your employees. If you've ever made a mistake with someone's holiday, you'll know how negatively it can reflect on your management skills. It may even impact how your employees feel about their work.  
By allowing your employees to manage and update their own information, ESS significantly reduces the chance of errors. It gives them autonomy over their information.  
Of course, removing the need for manual entry will also free you up to focus on more strategic (and rewarding) activities. 
Employees are empowered
It goes without saying – you want your employees to feel trusted and empowered in their work. ESS gives your employees control of their information, without the need for constant supervision.  
This not only saves you time and resource, but it also gives your employees a sense of ownership and responsibility. 
By using self service HR, you're showing your employees that you trust them and value their time and effort. You're empowering them to make decisions. You're empowering them to take control of their own work lives. This can only lead to a more productive, engaged, and motivated workforce.
Accessibility is improved
ESS makes it easy for your employees to stay connected with their work, no matter where they are. With the customer portal accessible from laptops, PCs, and even their phones, employees can: 
Perform work-related tasks

Book holidays

Access important information 

 
From anywhere and at any time. 
With employee self service, your employees no longer have to be at work to get things done. They can take care of their work tasks during their lunch break, from home, or while on the go. This flexibility not only saves them time, but it also makes their work lives easier and more efficient. 
Automates HR tasks
With the ability to create automated workflows, HR software can make the process more efficient. This can help you with routing, approving and tracking HR tasks and requests.  
For example, when an employee requests time off. The automated workflow can route the request to the appropriate manager for approval. It will then update the employee's status once it is approved. This eliminates the need for manual follow-up and reduces the risk of miscommunication. 
Automated workflows also help to standardise HR processes across your business. This improves the overall consistency and accuracy of HR data and reduces the risk of errors. 
Automated workflows also provide real-time updates and notifications. This keeps you informed about the status of HR tasks and requests. Everyone is on the same page and delays (and confusion) are reduced. 
Automating tasks is at the core of HR software. To find out how HR software can save you time, read our article.  
How to get started with self service HR?
Now you can better answer the query, what is ess, it's time to take action. Will ESS make improvements to your company? Or, is now not the right time? 
The first step is to assess your current HR operations. This will help you determine if ESS would be a good fit for your company. Consider factors such as the size of your workforce, the complexity of your HR processes, and the resources available to your HR team. 
If you think you're ready to get started with ESS, we offer a free trial. This allows you to experience the benefits of ESS for yourself. No credit card is required. Simply submit your email address, verify it, and you'll be ready to go.  
Get started now