Topics we'll be covering on how HR software can improve employee productivity:
Are you facing low productivity levels within your workplace? Coming up with solutions on how to improve employee productivity will always be a challenge when external factors (like the cost-of-living crisis) are at play. In fact, you could argue that you need to work harder than ever before to keep your team motivated.
As a manager, this can be made even more challenging if a large proportion of your time is spent on HR admin instead of driving productivity within your team.
Here at Access PeopleHR, we regularly speak of the benefits of HR software – and one such benefit is the time it saves by removing unnecessary admin, freeing you up to focus on the productivity of your team. In addition, there are specific HR software tools that directly contribute to employee productivity. Want to find out more? Carry on reading.
What is employee productivity?
Employee productivity refers to the amount of value generated by an employee over a given period of time. Productivity is directly related to both short-term and long-term outcomes as well as return on investment. High or low productivity depends on a company's internal average and where the employee, team and department stand as per this predefined baseline.
How to improve employee productivity with HR software
If you've identified that productivity levels are low in your workplace, you will have already started to think about a solution to the problem. In this section, we'll be answering, "how can HR improve employee productivity?", bringing the benefits of HR software to the surface and highlighting what factors will improve employee productivity.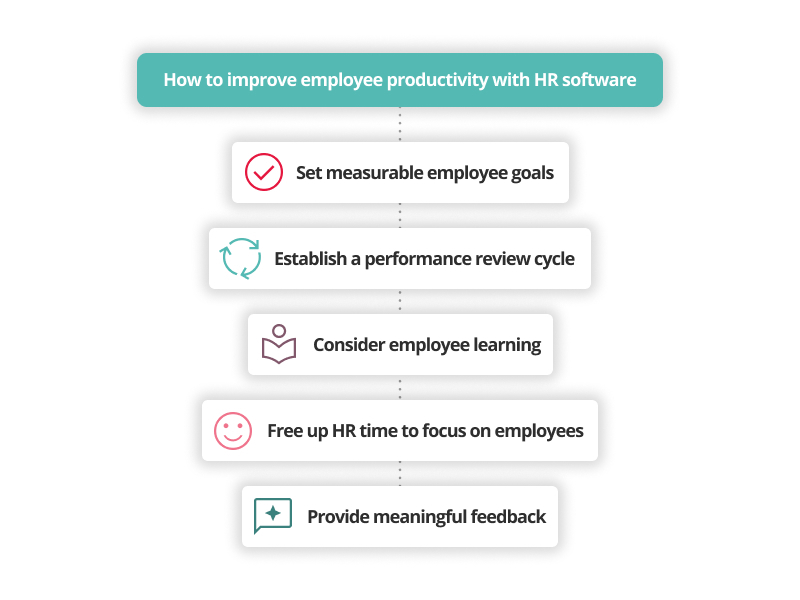 1. Setting measurable employee goals
Putting employees in a position to achieve goals will go a long way in improving employee productivity. By setting measurable, SMART and attainable goals, employees gain self-motivation and confidence in their abilities. With identified goals in mind, employees can then be driven to follow an established system for performance analysis and take ownership of it.  
However, maintaining consistency with goal setting can be challenging without the right tools in place. HR software (and in particular, integrated appraisal software) helps managers conduct regular reviews with every employee by way of providing performance review templates, online goal setting and triggered notifications to prompt managers when an employee's review is coming up. 
Mobile functionality also allows employees to access their appraisal logbooks anywhere, anytime, using a user-friendly app – making the whole experience of goal-setting more convenient – and therefore productive. 
Setting meaningful goals via appraisal software can drive better performance and greater productivity. It can also motivate employees to collaborate and work together as a team. Leaders should regularly check in with employees about their goals and progress, and in return, offer rewards for a job well done. With the right appraisal software in place, this becomes a seamless reality.  
2. Encourage growth with a performance review cycle
Leading on from setting measurable goals via performance management software, a consistent review cycle will also contribute towards improving employee productivity whilst establishing a culture of growth within your workplace.  
With performance management software, many processes are automated and simplified across roles. More advanced software features include automatic reminders, data analysis and reporting, and employee feedback opportunities. When combined, your employees get a performance management system, that is transparent, consistent and much more effective than traditional methods.  
Benefits of performance review cycles: 
Boosted engagement in employees' personal progress 
Reduced stress as expectations are clear 
You're aligning employee goals with the company's mission 
A more accurate measure of employee performance 
The review cycle plays a critical role during quarterly appraisals. In addition, it's one of the key ways to improve employee productivity, identify loopholes and take action accordingly. This can also help in the ultimate achievement of long-term and short-term company goals.  
3. Improve employee learning 
According to the findings of a study by the National Centre for Education Statistics, a key strategy for improving employee productivity is by providing opportunities to receive more education. In fact, the study revealed that employers who provided access to continuing education directly correlated with higher productivity among their employees.  
With a consistent performance review cycle, employees will not only be more productive, but there will be more room (and time) for them to focus on their learning – whether this is through managers directing them to potential courses, or with books and other CPD that will further them in their career.  
4. Free up HR's time to focus on employees
HR software places a huge emphasis on giving employees the ability to self-serve. Not only will this give them a sense of empowerment and autonomy, but it also makes you – as the person in charge of HR – much more productive by freeing up your time.   
HR self-service software gives employees the ability to: 
Update personal records 
Manage holiday and sickness requests 
Conduct simple, company-specific*, HR tasks themselves 
*Examples include managing equipment and uniform requests, compensation and benefits requests. 
Freeing up your time allows you to prioritise employee wellbeing. Beyond the obvious 'human' element of protecting your employees, this prioritisation will help with talent retention, and improved quality of work and, of course, it's one of the key ways to improve employee productivity across your entire organisation. 
5. Provide meaningful feedback 
HR software can help facilitate 360-degree feedback – a popular technique that involves getting feedback from multiple people simultaneously. Getting feedback from multiple sources can prove challenging if utilising traditional methods, and can make the process extremely time-consuming - especially with a growing workforce. In fact, when you consider all the steps involved in 360-degree feedback, the process is completely impractical if you don't have performance review software in place.  
Performance review software makes it quick and easy to capture 360-degree feedback. An online portal, which houses anonymous feedback questionnaires and self-evaluation forms, ensures all information captured is in one place. This can then be used by managers during development meetings with individuals. 
Feedback of this nature makes it much more meaningful to the employee. It creates a confidential and comprehensive way to provide different perspectives to individuals that they would likely never receive otherwise. This goes beyond just personal development. Team dynamics improve, peer relationships become stronger and your company is able to reinforce a consistent feedback experience for employees. To find out more about 360-degree feedback, read our detailed article. 
Next steps 
Your employees' productivity levels determine how much value they provide, and a positive work environment should facilitate this. Your staff are both your biggest asset and investment, and their productivity directly impacts your revenue generation. When productive, they should be yielding a strong ROI for their time and expenses.  
However, if you're experiencing low productivity, it is normally because employees are not motivated or driven toward your company's goals and objectives. Regular performance review cycles and feedback from all parties will identify challenges before they become an issue and start impacting your bottom line. 
By now, you should have an idea of how to improve employee productivity (and what factors will improve employee productivity) with HR software. To recap, HR software can: 
Help to set measurable goals 
Encourage growth with a performance review cycle 
Improve employee learning  
Free up HR time to focus on employee wellbeing 
Provide meaningful feedback 
With Access PeopleHR's all-encompassing performance review software, you're equipped to maintain productivity levels amongst your employees – making them happier and more aligned with your company's goals. To find out more about our HR platform, watch our 4-minute demo today.