Maybe your hiring process is disorganised, your job postings are ineffective, or your onboarding is slow? 
Whatever reason (or reasons) that led you to this page, an Applicant Tracking System is one solution to consider. And in this article, we'll share the 7 core benefits you can expect.  
As with any software investment though, you should carefully weigh up your options. After reading, you may uncover that, in fact, an ATS isn't the solution for you. But it's better to know this before investing, right? 
1. Time-saving, streamlined recruitment management
Recruitment can take up a lot of time and resource for SMBs. You've probably become accustomed to: 
Organising, sifting and reviewing applications manually

 

Scheduling interviews

 
The list goes on.  
When you're dealing with those challenges, it's no wonder SMBs struggle to fill open positions with the best candidates.  
With an ATS, you get a centralised platform. This allows you to manage the entire recruitment process efficiently. Most ATSs also have automation functionality embedded, meaning those manual tasks mentioned above can be taken care of. Later in the article, we'll take a further look at automation. 
But to sum up: a key reason why SMBs select ATS is to save time. This allows them to focus on what's important: growing their team. If you feel like this resonates with you, then ATS should be a consideration.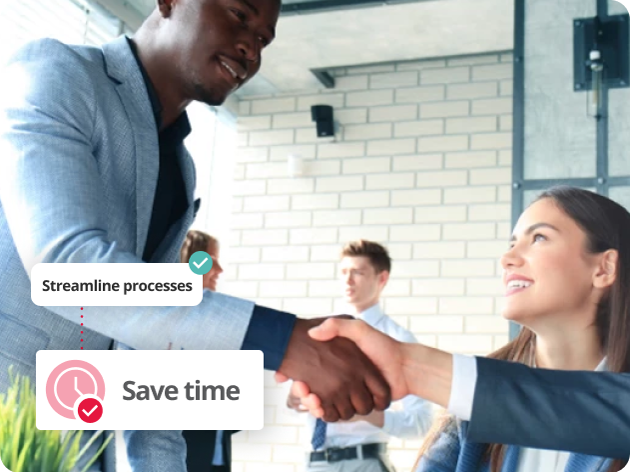 2. Automates routine tasks
When it comes to recruitment, a common misconception is that things can't be automated. Afterall, you're dealing with people, right? You need to make sure that you find the best-fit candidate for your open position. No robot is going to help you with that, surely… 
Whilst it's true that building your team is reliant on human interaction, much of what you do during the recruitment process can be automated. And it just so happens that these activities take up the most time! 
Let's look at how automation works within an ATS: 
Templated job postings:

Many ATSs come with templated job postings. This allows you to create and publish job listings in a matter of minutes. 

 
Multiple job boards:

With your job listing in place, an ATS will automatically post it on multiple job boards. This increases the exposure of your job opening and reaches a wider pool of candidates. 

 

Track application progress:

Most ATSs have an automatic tracker. This allows you to keep track of the progress of each candidate, without having to manually check each application. 

 
These features, among others, help to automate routine tasks that take up too much time in a manual recruitment process. This allows you to truly focus in on the quality of your candidates, making 'automation' one of the many benefits of using an applicant tracking system.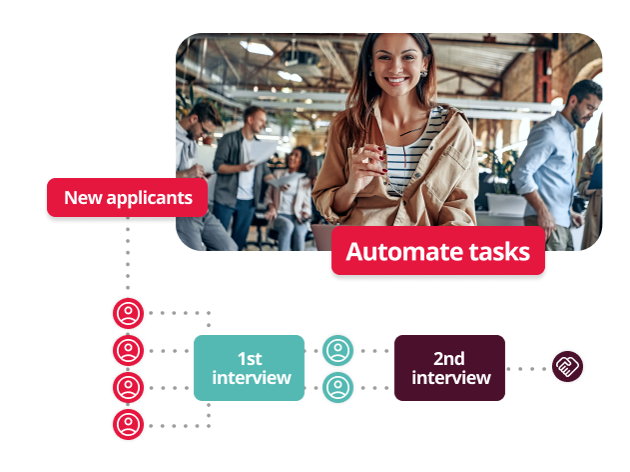 3. Improved quality of hires
You'll have no doubt heard the famous Einstein quote,  
"Insanity is doing the same thing over and over again and expecting different results." 
The same is true in recruitment. How can you expect to find better candidates if you don't: 
Expand your reach

 

Work more efficiently

 
With better job listings, more effective shortlisting processes, and easier-to-use mobile job applications, an ATS can help you attract a higher quality pool of candidates.  
An effective ATS means not having to manually sift through countless CVs. And its advanced features, such as keyword search and CV reviewing, allows you to shortlist and screen candidates based on specific criteria. This reduces the time and effort required to identify the best candidate for your open position.  
What's more, the use of mobile job applications makes it easier for candidates to apply for job openings on-the-go. This further increases the pool of quality candidates that you can draw from. 
Still questioning, what are the benefits of an applicant tracking system? Let's explore some further ATS benefits.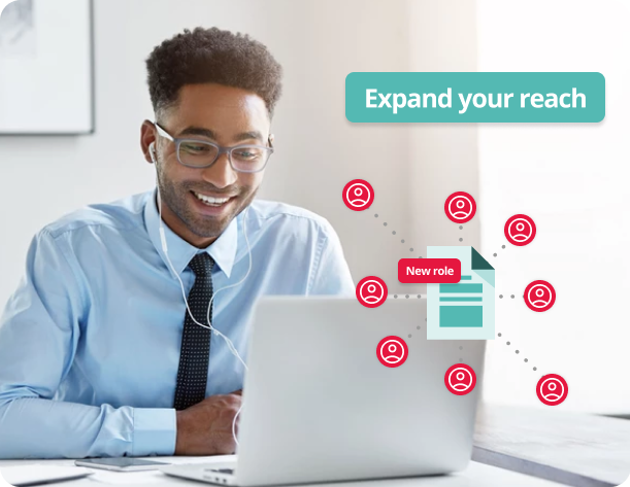 4. Better candidate experience
It is during the application process that a person gets to experience your company for the first time. A poor candidate experience may look like: 
A vague job advert with little detail about what the role entails

 

No follow-up comms to confirm a candidate's application has been received

Processing of CVs and applications taking too long

Candidates not hearing back from you in a timely manner

Inflexible interview options

 
Does any of the above sound familiar? If so, it may be impacting your brand reputation. It could even put people off from wanting to apply for positions with you in the future.  
An ATS not only benefits your company, but it also provides a better experience for the candidates. Effective job postings and the use of a mobile app allow candidates to stay informed and engaged throughout the process. This makes you appear professional and improves the overall awareness of your brand.
In addition, an ATS enables prompt and efficient communication with candidates. By keeping them informed, you're reducing the frustration that often arises from a lack of information or slow responses. This, in turn, creates a positive impression of your company, increasing the chances of attracting top talent.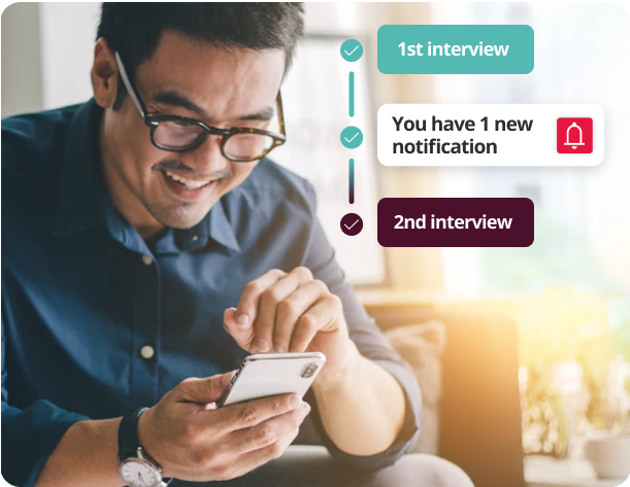 A better onboarding experience
Looking for suitable candidates is one thing. But what happens when you finally make the hire? The onboarding process is a crucial time for a new employee, and getting it right is key to a positive experience.  
An ATS streamlines the onboarding process. New hires can easily complete the necessary paperwork and get up to speed with your company, it's culture and processes.  
This results in a smoother and more efficient onboarding experience for both the company and the new hire. It sets the stage for a successful long-term relationship. 
To sum up:
An applicant tracking system is not just better for the company, but it's also better for the candidates. With effective job postings, a mobile app, and better all-round responsiveness, an ATS provides a positive and professional recruitment experience that benefits both parties. This makes, 'a better candidate experience' one of the top benefits of ATS. 
5. Data-led recruitment reporting
Every aspect of your business should be underpinned by data, and recruitment is no exception. If you're not learning from certain insights and analytics, your future recruitment efforts will suffer.  
With an ATS, you can track key HR data and analytics, such as: 
Time it takes to hire an onboard a candidate

 

The most effective job boards and sourcing channels

 

Section statistics (i.e. identifying candidates who started an application but didn't complete it)

 

Number of candidates

Quality of hire

Cost per hire

 
This data provides valuable insights into what works and what doesn't. It allows you to make informed decisions and continually improve your recruitment strategies. For example, the data can reveal: 
Which job postings generate the most interest 

 

Which sourcing channels are the most effective in attracting top talent, and

How long it typically takes to fill a particular role

 
To sum up: 
The ability to draw from data and analytics leads to better decision-making. This allows you to continuously optimise your recruitment processes, attract top talent, and drive business success. Therefore, one of the top benefits of using an applicant tracking system is the data you can glean from it.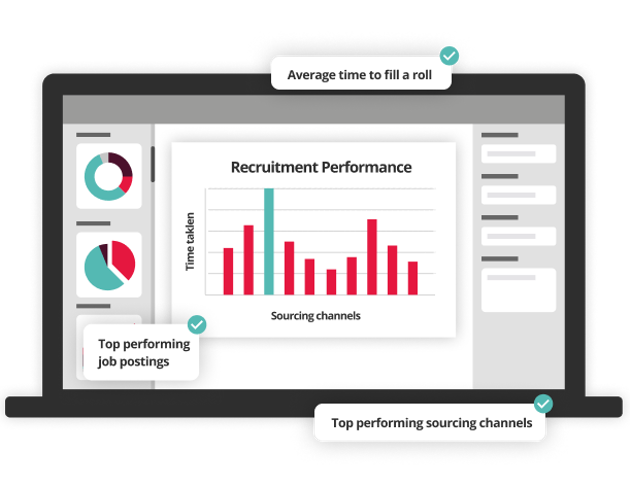 6. Flexible interview process
It's not just the application process that's challenging when it comes to recruitment. Arranging interviews with candidates can prove troublesome – especially for SMBs – who already have a lot on their plate.  
One of the benefits of ATS is that it allows you to streamline the interview process. Less manual effort is required for scheduling and coordinating interview times, dates, and methods. This means that you can focus on the more important aspects of the interview process. For example, evaluating the candidate's qualifications, experience, and fit with the company culture.
In simple terms, an ATS allows you to schedule, track and manage interviews. This reduces the time and effort required for communication and coordination with candidates.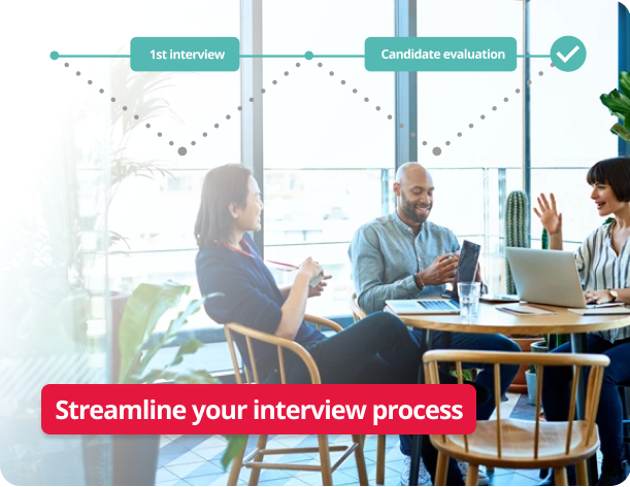 Video Interviews
Another one of the ATS benefits to note is video app functionality. This allows you to conduct interviews remotely, making the process more convenient for both parties.
Audio and video questions are also available with some ATSs. This helps reveal hidden insights about candidates during the application phase. This can help you to assess body language, confidence and the ability to perform under pressure.  
7. Improved cost per hire
No doubt about it: recruitment is expensive. Glassdoor estimates that the average cost per hire is £3,000. For an SMB, this is a heavy investment. So, you want to make sure that when you hire, you make the right choice… preferably first time.  
To calculate cost per hire, Glassdoor recommends you consider external and internal factors. 
External recruiting costs: 
Job sourcing

Background checks, work eligibility, drug testing

Contractors

Pre-hire assessments

Recruitment process outsourcing

Job boards

Marketing

 
Internal recruiting costs: 
In-house staff

 

Systems (e.g. ATS)

 

Referral rewards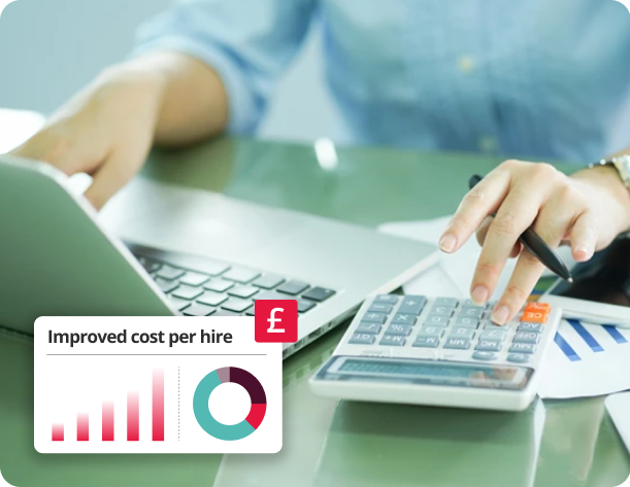 When considering the above, it's no wonder that reducing cost per hire is a top priority for SMBs. An ATS can play a major role in achieving this goal.  
As we have mentioned throughout this article, by streamlining and automating manual processes, you are negating the need for external recruitment agencies.  
What's more, a better onboarding process will improve employee retention rates. With an ATS in place, companies can easily track and manage the onboarding process, providing new hires with the information and resources they need to hit the ground running. This helps to reduce turnover and saves on the costs of replacing employees. It also helps to improve the overall productivity and engagement of your workforce. 
To sum up:
With an ATS in place, companies can save time and resources, reduce turnover, and improve the overall productivity and engagement of their workforce. This makes the subject of cost one of the key benefits of an applicant tracking system. 
Signs you need an ATS
There are many benefits of using an applicant tracking system to streamline your recruitment process. At a glance these benefits include: 
Time saving and streamlined process

 

Improved quality of hires

 

Automation of manual tasks

 

Data insights

 

Flexible interviews

 

Improved cost per hire

 

A better candidate experience

 
However, you should closely consider whether an ATS is a worthwhile investment for you. If you have a small number of open positions, then a manual recruitment process might be sufficient. It is also worth considering whether a discrete ATS or an ATS that's part of a wider HR system is the best choice. In our article, Recruitment software VS HR software, we address this issue head-on.  
What are the signs that you might need an ATS? Ask yourself the following questions: 
Is recruitment taking too long?

 

Are you struggling with a lack of good-fit candidates?

 

Are you finding it difficult managing the recruitment (including onboarding) process?

 
If you're experiencing any of these challenges, now is the time to explore the many benefits of an applicant tracking system. With our free trial, you can see for yourself just how effective and efficient an ATS can be. So why wait? Get started today and find the hires you deserve.