Topics we'll cover in our guide to choosing the best employee onboarding software:
If you're in the market for the best employee onboarding software, this article offers a high-level definition. You will also get some tips for what you, as an SMB, should look out for when researching onboarding software.
You've completed the recruitment process. You've selected your candidate. Now comes the task of onboarding. Making new hires feel welcomed, prepared and embedded into your company and its values isn't easy. Even more so if you have a dispersed workforce. So, it makes sense that you'd be looking for the best employee onboarding software on the market.
Whilst you want to ensure your new hires start off on the right foot, it can be a laborious process in the background. Compliance documents, payroll, updating personal details, training… The list goes on. This can put enormous pressure on the person responsible for HR within your SMB, and it can be costly. In fact, a study by Glassdoor reported that the recruitment process can cost up to £3,000 per employee.
Here at Access PeopleHR, we understand the role onboarding has on employee success. It can make or break a person's experience within your company. We're also aware of the rigorous admin associated with onboarding.

What is employee onboarding software?
Employee Onboarding Software helps to prepare your new hires before they begin work. It is a platform that simplifies document management processes and manages compliance forms. The tool allows you to cut down on admin whilst making new employees feel informed and welcomed into your company and culture.  
Onboarding in HR involves integrating a newly hired employee into an organisation seamlessly. It allows employees to gain an understanding of their job role, their daily tasks and the overall workplace culture. Onboarding begins as soon as your new employee is hired and continues until they are fully accustomed to their new role. 
How to choose the best onboarding software for your business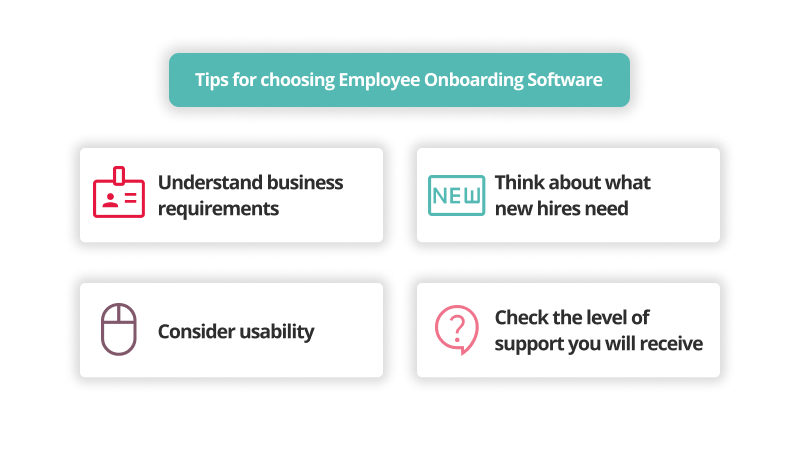 When considering 'how to choose onboarding software' for your business, there are a number of primary factors at play. It starts with understanding your business requirements and then evaluating what your new hires need in order to get the most out of their experience. Furthermore, you should also consider the software's usability and level of support provided.  
A company's onboarding process is vital to getting workers engaged and productive. In organisations that fail to deliver a solid employee onboarding process, turnover is a common issue, resulting in excessive costs. Therefore, it is vital you select employee onboarding software that meets the expectations of both the business and your new employees. 
We'll now explore some of the steps your business can take when choosing the best onboarding software. 
1. Understand your business requirements
Before considering the best new employee onboarding software, you need to understand your business requirements. What information needs to be available to your new starters? This will dictate the non-negotiable (and desired) functions the software must have. For example, you may need a file attachment functionality for onboarding policies. In addition, a 'nice to have' might be the ability to self-brand the software to maintain your company identity.  
Bottom line: Understand your requirements, rather than the endless features a software can provide.  
2. Consider what your new hires need
You should also consider what your new hires need the most out of their cloud employee onboarding software, especially if you're purchasing a pre-packaged commercial software. Firstly, is it compatible with your company's internal tools? For example, will it integrate with your accounting software, timesheets and other corporate assets? Can new hires use the software to upload documents or open office files? 
Accessibility is also crucial. Some new hires may not have access to a desktop device prior to joining. Their mobile phone might be the only way they can access key information. In this instance, ensuring your chosen software is mobile friendly will benefit your new employees.  
There will also be company-specific protocols to consider. Will your new hire require a uniform list? Training modules specific to their role…? 
These are all worthwhile considerations before selecting your new employee onboarding software.  
3. Is it easy to use?
User-friendliness is key with on-boarding software. Adding complexity to the process you're trying to simplify is the last thing you want to do. Avoid software that will frustrate you and your employees. We're talking about a complex interface, non-intuitive navigation, slow speeds… 
To overcome buyer's remorse in relation to user-friendliness, we recommend asking suppliers for a free trial. This way, you get a feel for the software and its usability before integrating it into your business.
4. Does the software have support?
Getting used to new on-boarding software can take time, so make sure you find out what support you can expect from your supplier. Whilst you may not need round-the-clock support, a point of contact is helpful, particularly in those early stages of implementation. What is their level of availability? When can you contact them? 
Most suppliers will include free training and support as part of the implementation process. However, if training is required further down the line, this may incur additional costs. Being clued up on this from the outset is advisable.  
We recently wrote an article on HR software implementation, where we discuss support (and cost) at length. Feel free to give it a read.  
What are the best features of modern onboarding software?
By now, you should know the steps your business should take before shortlisting potential suppliers. We're now going to highlight some of the best features of new employee onboarding software. This might help you uncover your requirements further. It could also identify any HR problems you're currently having.  
1. Cloud-based software
Does your employee on-boarding software offer real-time access? In other words, can an employee participate in onboarding from a different location to your head office? If not, then you should consider cloud-based software.  
Cloud employee onboarding software benefits: 
Centralised document storage 
Enhanced security 
Good integration capabilities  
Can be accessed anywhere  
Removes the need for multiple file versions 
In addition to the above benefits, cloud-based onboarding software for SMBs offers flexible subscription plans, ready-to-use features and rapidly deployable modules. Combined, this can cut down on the time and resources required to onboard new hires.  
2. Engaging onboarding processes 
Let's face it: onboarding is essentially a checklist. It's a list of things a new employee has to do before they start work. Gamifying some aspects of onboarding will make the process more fun and interactive.  
You may have heard of gamification in other scenarios, but what does it look like with onboarding? Gamifying tasks into 'quests', for example, can make an otherwise boring task fun. You could make the onboarding process a mission by setting a list of actionable goals. Employees would then have to complete the goals to progress to the next level. 
The concept of gamification is relatively new when it comes to onboarding. But, a study referenced on TLNT found that gamified onboarding can boost engagement by 48%. Furthermore, it led to a 36% improvement in staff turnover rate.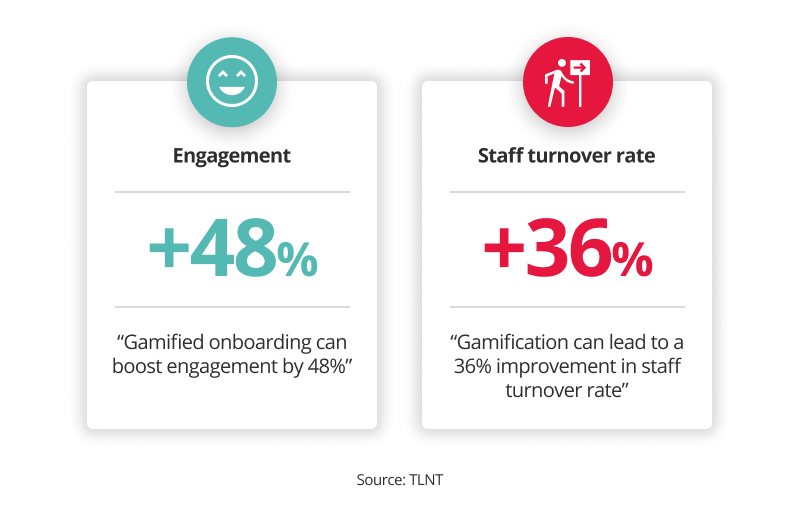 If you'd like to learn more about gamification, visit our friends over at The Access Group. They recently wrote an informative article on it! 
3. Reporting and data analytics 
One thing that can get overlooked when onboarding is reporting and analytics. What can you learn from the data? This functionality will help you discover key areas of improvement. This, in turn, may help to improve productivity and reduce turnover rate.  
You may find employee training software with built-in report templates useful. Self-assessment modules may also help identify which departments to place employees.  
The level of reporting and data analytics you need will depend very much on your company size. Say you only hire two to three people a year on average. This is not uncommon with SMBs. Training software with built-in reporting may be unnecessary. 
Instead, an all-round HR software with built-in reporting and analytics might be a better option. This will provide data on your entire HR function, as opposed to the granular onboarding analytics mentioned above. Learn more about HR reporting tools & software. 
4. Automated workflows 
In today's tech-savvy workplace, employees live with, and use, technology. They will have the same expectations for their onboarding process. An outdated process will squash their expectations and may hinder their experience with your company.  
Most onboarding processes includes stakeholders from various departments. An effective new employee onboarding software should automate workflows across departments. This will bridge the people-process gap often seen within the SMB space. An automated onboarding workflow allows HR staff to keep an eye on the process. 
Benefits of automated workflows for onboarding: 
Removes repetitive manual steps 
Passes on the application automatically to the next person in the workflow 
Sends automated reminders to keep stakeholders on track 
Ensures every step is carried out accurately and consistently 
5. HR task management 
Onboarding is not exclusively HR's responsibility. Departments often share duties. Here are some examples: 
IT may set up the new starter's laptop and email 
If managed externally, payroll may need to be organised 
The employee's line manager may need to set up inductions and check-in meetings 
Without on-boarding software, HR may not be able to keep track of progress, and what needs following up. This is amplified if staff are working remotely. Onboarding tools with a task manager and checklist will keep everyone on track. Notifications will ensure that you don't lose track of important tasks. 
Next steps
Your employee onboarding software is a central source of information for new hires. You can increase productivity, reduce training costs and engage your workers. What's more, it frees up your valuable time to focus on what really matters: ensuring they have the best experience possible.  
Something to consider. Do you select a discreet recruitment software? Or do you select an all-encompassing HR software with applicant tracking built in? If you're unsure, we addressed HR software vs recruitment software in a recent article. Feel free to check it out.   
If you'd like to learn more about how Access PeopleHR can improve your onboarding, book a free trial. 
You might be interested in: 
If you enjoyed this article, why not take a look at some of our most recent reads: