Updated on 7/6/2023
The 5 HR software features for SMBs we'll be covering:
If you found your way onto our website, you're most likely on the lookout for HR software. But with the sheer volume of providers out there, it can be tricky to know who to choose, and indeed, which features of HR software to look out for.  
Of course, your 'essential HR software must-haves' will differ to others, depending on your needs as a business. This is a conversation we often have with customers here at People HR, so we thought it would be useful to provide a table of features to help you decide on what's important to you and your company.  
This article also discusses the top 5 essential features to look out for – if you're looking for a bit more guidance. We know there are a lot of people out there who (understandably) find the world of software intimidating, so we'll do our best to be as clear (and non-techy) as possible.  
Let's get started…
1. Your HR software should have employee self-service system
An employee HR self-service system is an online portal where employees can perform HR-related tasks without needing the support of administrative staff.  
Self-service HR tasks include: 
Requesting holiday 
Viewing schedules and shifts
Accessing payroll information
Updating personal information
Receiving notifications (holidays, birthdays, shift changes, for example)
Receiving training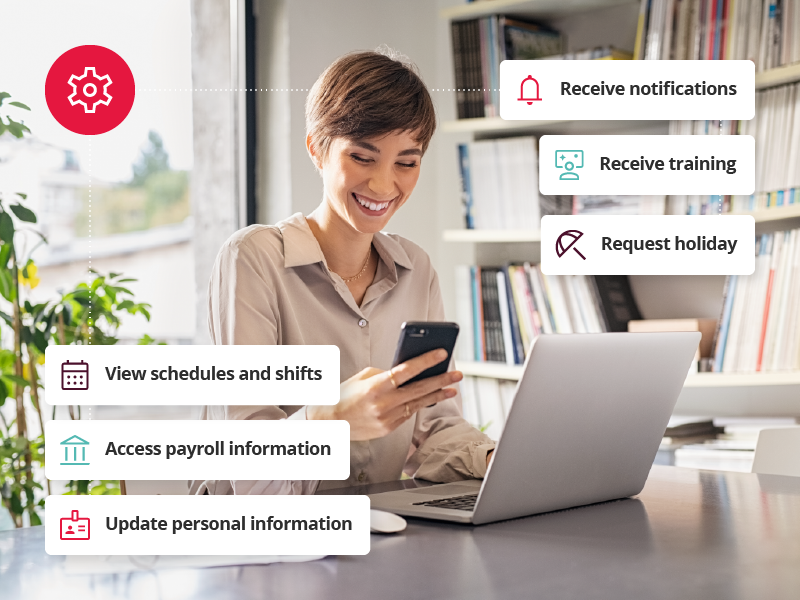 Managers can then use the same portal to approve requests and send updates.  
Now, just think for a moment how much time this could save you…  
What's more, think how easy you're making things for your employees… 
Employee self-service (or ERR for short) isn't about relinquishing HR responsibility (contrary to common belief). Rather, it's about empowering your people; providing them with single, centralised access to a range of information – to make their lives easier.

2. Streamlined employee & document database
A streamlined employee database is one of the most essential features of HR software, and one that will help your business access information quickly and keep it safe.  
Most companies use this feature to store their critical information as it's a secure platform with all data in one place. When paired with self-service functionality as mentioned above, a cloud-based employee database will allow your employees to find, confirm and update their information as needed, making them feel in control and confident that you've got their correct information securely filed.
Let's take a look at what information you can upload to most employee databases: 
Personal information
Payroll
Employee hire date
Time and Attendance
Benefits
New hire paperwork
Tax information
Training documents
Candidate CVs and applications 
This is just a general list. In reality, there is an abundance of data sets you can input into an employee database system.
3. Attendance management
If you're working with a manual attendance management system, we'll bet that most employees fill out their timesheets in a hurry – on either the last day of the week or worse, the last day of the month. This can take its toll on both employee productivity and morale, not to mention lead to inaccuracies and even tampering.  
Without reliable time and attendance software, you may face problems around compliance issues and payroll errors, to name a few.  
Cloud-based attendance management systems can prevent the issues above by accurately tracking employee working hours, login time, departures, breaks and time off. This will be displayed in one single interface, saving the time and effort of having to store, maintain and analyses attendance records manually.
Learn more about how our employee time log software can help you do this.
Key features of time and attendance software to look out for:
Time-keeping codes  
Log time on projects 
Auto-populated timesheets 
Payroll time and attendance 
The ability to integrate your existing time and attendance software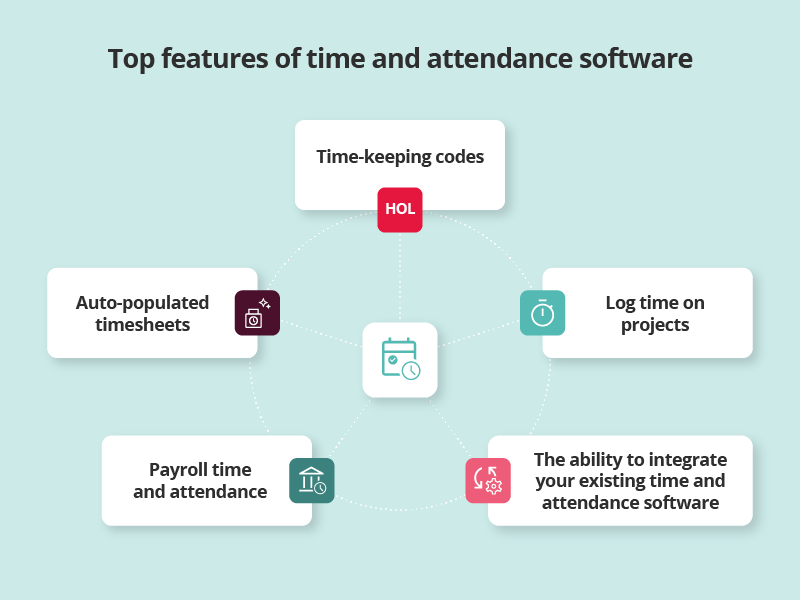 There are many benefits to be gained with an attendance management system.
4. Applicant tracking system
The process of recruitment can be costly, time-consuming, and at times, disheartening. A study by Glassdoor found that recruitment, on average, can cost up to £3,000 per employee – when ad spend, time taken to select and shortlist applicants, and on-boarding are taken into account.
Many people we speak to often feel that they're missing out on the best talent due to the sheer number of applications that come their way. When dealing with so many CVs, your next best hire may fall through the cracks -  if you don't have an efficient management and shortlisting procedure in place.  
Recruitment software and an applicant tracking system is therefore a valuable resource when considering HR software and their key features. Most recruitment software can provide: 
Recruitment support – Makes it easy to create and publish vacancies, whilst automatically adding new applicants to the applicant tracking system.
Interviews – Embedded video interviews allow you to meet candidates face-to-face.
Mobile-friendly functionality – With most people looking for their next job via their smartphones, your software should provide a good mobile user experience.
Simple integration – An effective applicant tracking system will integrate with your existing software and applications. 
Not only can these HR software key features help save time, but they can also help you find the best talent – since your time won't be spent on the usual admin associated with recruitment.
5. HR reporting & analytics
HR reporting and analytics are one of the most overlooked features of HR software. Yet, when used effectively, it can give your HR department full oversight into what HR activities are impacting your business. But what exactly is HR reporting and analytics? Allow us to briefly explain...
HR reporting and analytics is the process of assembling HR data (regarding recruitment, employee engagement and productivity, for example) into comprehensive and visual reports. Historically, HR has not been synonymous with data and reporting, but as technology evolves, modern businesses are taking a more data-driven approach. This is allowing businesses to monitor, track and make adjustments according to the data they are presented with. 
Many HR software providers offer some form of HR reporting – some of which allow users to get an accurate report in a matter of minutes. Not only does this save time, but it provides senior team members and stakeholders with a tangible overview of what's working and what's not.  
When searching for reporting and analytics software, here are some sub-features to take note of: 
Custom infographics 
Instant graphical reports 
Custom report writer
Drag and drop HR reporting 
The idea of HR reporting and analytics is to save you time – as opposed to manually creating reports, whilst providing accurate data that will have a positive impact on the decisions made within your business.
HR software requirements checklist and features list
At a glance, here's an overview of HR software key features. You will notice that some of them have been mentioned throughout this article, but we've also added a few more features worth a mention.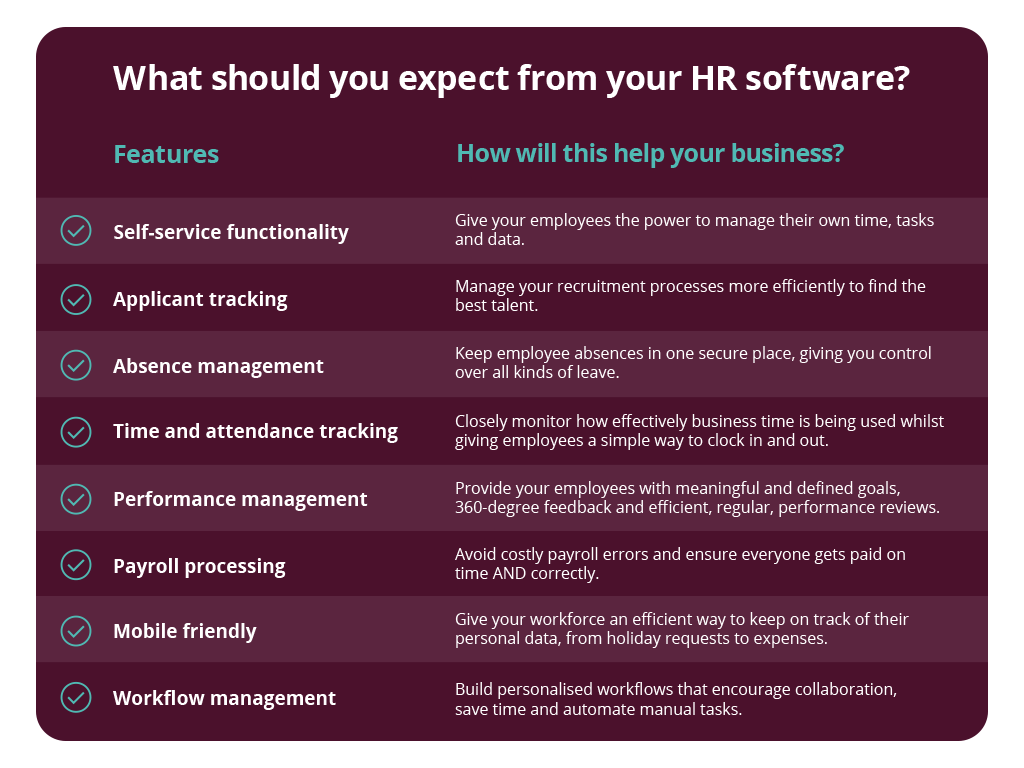 As stated in the introduction, not in this HR software features list will apply to your business. You may find that you only require one or two features from the list above.
If you decide to book a demo with one of the team here at PeopleHR, you may wish to refer to this table and discuss which features are relevant to your business.

Next steps
Selecting HR software can be a difficult task. You will have no doubt visited many websites and seen many comparisons. Hopefully the HR software features list will steer you in the right direction. 
The beauty of HR software is that you can select a solution that works for you right now – so you're not paying for something you don't yet need. What sets us apart here at PeopleHR, however, is that our software is scalable. That means, as your business changes, so too can your software. In other words, you can add or reduce HR functions to align with the needs of your business.  
To start increasing organisational efficiencies with your Human Resources, why not start your free trial of People HR today?