If you've been researching HR software pricing models, you'll have no doubt visited many different websites and received many different answers.  
Here at Access People HR, we've simplified the different pricing models into three broad categories – which we'll cover in detail throughout this article.  
The cost of HR software is an important topic right now. In fact, the cost of anything is widely discussed. It may seem like choosing not to invest in HR software is the logical choice during economic uncertainty.  
But in our view, investing in a low cost, functionality rich HR system will help make your staff more engaged, more productive and less likely to leave their job​.    
With that in mind, we offer you an overview of the different HR software pricing models. This should allow you to set a realistic budget for when you shortlist providers.   
What are the different types of HR software pricing models?
Those interested in purchasing HR software may find a variety of pricing models on the internet. Don't be alarmed, though. They normally fall into three broad categories: subscription, licence or free. We're now going to cover those three in more detail, offering pros and cons for you to consider.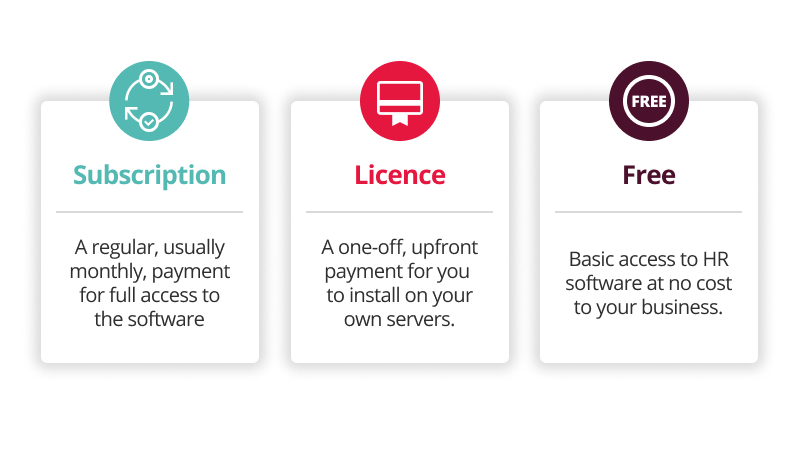 Subscription
As you might have guessed, a subscription involves a regular monthly payment. In return, you get full access to your product and its features. Most HR systems are cloud-based, meaning they are accessed over the internet. Providers can therefore charge on a recurring basis rather than for a one-time license, giving them greater control over the system. 
On the whole, 'subscription' is a pay as you go service with an exact payment amount depending on number of users or employee records stored on the system. Bear in mind, some subscription providers apply a minimum payment period (i.e an annual contract).  
The cost of implementation is also something to consider. Most HR software for SMBs offers a free implementation. However, others may charge a one-off implementation or a setup fee. During your conversations with suppliers, find out what the cost of implementation will be. This will avoid any unexpected surprises further down the line.  
Most HR software is charged on a per user, per month basis. If budget is a concern, you may wish to limit the number of users who have access to the software. However, exercise caution with this approach. Some HR platforms have strong HR self service functionality. By limiting this feature, you're not accessing the software's full capabilities.  
The biggest benefit of a subscription-based HR package is its flexibility. You are in full control. Should you wish to cancel your subscription, you can do so easily at any time. Often, this is an attractive proposition for SMBs.  
A disadvantage of a subscription-based HR package is the long-term cost. Despite its low upfront cost, a subscription will cost more over a long period of time as opposed to a licenced package.   
Subscription HRMS include BambooHR, Cezanne and Access People HR.  
Licence
The licence pricing model is based on a one-off, upfront licence payment. This gets you the system software. You will then need to: 
Install it on your own servers.  
The provider will release updates when they deem necessary.  
It's then up to you to install and troubleshoot these updates to maintain your system.  
As you've probably guessed, this may become an issue if you don't have an IT team in-house.  
With a licence agreement, you will have to pay a contracted maintenance fee, Although, this is not as expensive as a subscription service. A basic licence fee gets you a basic version of the system. You will then pay extra for specific features and functionality. Another factor influencing the price of a licence is the size of your workforce (and therefore the number of employee records).  
One of the biggest advantages to the licence approach is that there's more scope to customise it to fit your business.  
The biggest drawback to licence agreements as far as SMBs are concerned is… the level of expertise required to maintain the system on your servers. It's not the best option if you don't have an IT team.  
Free
It is possible to take advantage of free HR software. Providers offering this option include Zoho, Sentrigfugo and OrangeHRM. However, you are usually capped at the number of employees allocated. Beyond this, you will then have to pay a subscription. 
Nonetheless, this is a good option if you just want to test the waters of HR software. Bear in mind - free systems will provide you with a more basic/limited scope of functionality.  
The good news is that a free system comes at no financial cost to your business. However, that doesn't account for the cost of time it might take you (and your team) to learn how to use it.  
Free software also limits the amount of support and maintenance you're entitled to; you may find yourself having to pay more for this luxury.  
The biggest advantage of free HR software is, of course, the cost.  
The biggest drawback to free HR software is its limited functionality.
What are the different ranges of prices?
As with most software, you will encounter varying pricing models – from the lowest, to the mid-range, to the  highest. Each provider will have different pricing tiers, too. So, if you're in the market for HR software, you will find something that fits a range of budgets.  
Of course, the level of features you get will depend on which pricing model you opt for. We strongly recommend assessing your businesses needs and requirements before setting your budget. This way, you're less likely to be disappointed with the options presented to you.  
For lower pricing models, you should expect absence management, employee self-service, e-signatures for documents and other basic functionality.  
For mid-range pricing models, you should expect recruitment and applicant tracking functionality, talent and performance management functionality and more advanced internal communication tools.  
For higher pricing models, you should expect all of the above, plus workflow management functionality, automations, alerts and tasks.  
Can HR software stay at a fixed price for life?
Yes, it may be possible to establish a fixed price point with your provider. This approach can provide you with assurance that what you pay will never change. This is ideal for forecasting.  
However, an HR software fixed price doesn't provide much flexibility. Let's say your company downsizes, you'll still pay the same amount even with fewer employees. Most importantly, however, you may be limited to software updates/upgrades that become available. Most providers are continually improving their software and part of a subscription-based model is that the user gets to benefit from these advancements when they become available.  
How do I choose the best HR software pricing model for my business?
Choosing the best HR software pricing model for your business will depend on three key variables: budget, company requirements and price. We will now cover all three in a bit more detail.  
Budget
Your first consideration is budget. Put simply, can you afford to spend X amount per month? Now, this isn't as clear cut as you might think. Whilst you might be spending money on HR software, you will be increasing efficiencies elsewhere within the business. Therefore, HR software does yield a strong return on investment (ROI). This is a key consideration.  
Requirements
Your businesses requirements will scope which pricing model you will decide on. For example, you may collectively agree that your software must have applicant tracking functionality, and you may find that this is only available within higher pricing models. Bottom line: your business requirements may dictate the pricing model you go for. 
To discover the different features you should expect from your HR software, read our recent article – HR software features list for SMBs.  
Company size
Company size will also be a leading factor in the pricing model you select, especially if you're paying a cost per user, per month. A fixed-price agreement may be a consideration here. Alternatively, you may be able to negotiate a deal or discount with your provider. 
Learn more about HR software
To recap, there are three broad HR software pricing models for you to consider. They are subscription, licence or free. What you choose will depend on a variety of factors, including budget, requirements and your company size. 
Here at Access PeopleHR, our pricing model sits very much within the mid-range, when compared to other providers on the market. To learn more about our pricing, visit our HR software pricing page. 
If you have any questions around pricing – or any queries around HR software, feel free to get in touch with one of our technical experts. We're more than happy to help.    
You might be interested in: 
If today's topic resonated with you, why not check out some of our other materials: