Straight-forward cloud based HR software

We are trusted by
over 7000

companies: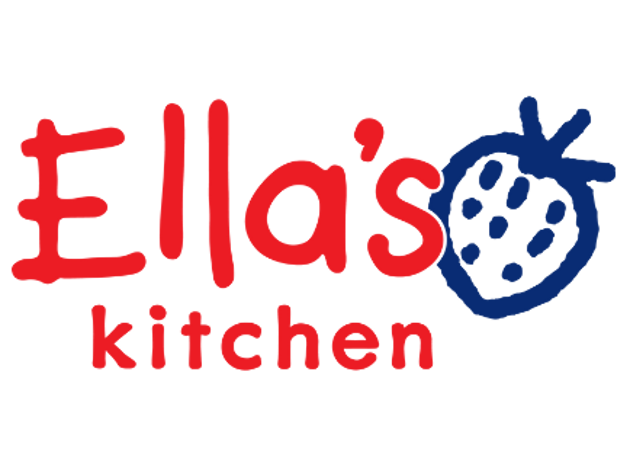 Ella's Kitchen case study
"Our favourite thing about Access People HR is the 'Thanks Badges' feature as it helps us to enhance employee engagement and morale, which really aligns with Ella's values. Employees actively use this feature every week to publicly share their thanks on 'Thank you Thursday."
Kim Deverall, HR Coordinator at Ella's Kitchen
4 min demo
What is HR Software?
HR software is designed to support businesses with time-consuming HR (Human Resource) processes by providing easy management of employee's data, automated manual tasks, and clear information organisation. Other names for HR software include Human Resources Information Systems (HRIS) or Human Resources Management Systems (HRMS).
Learn about HR Systems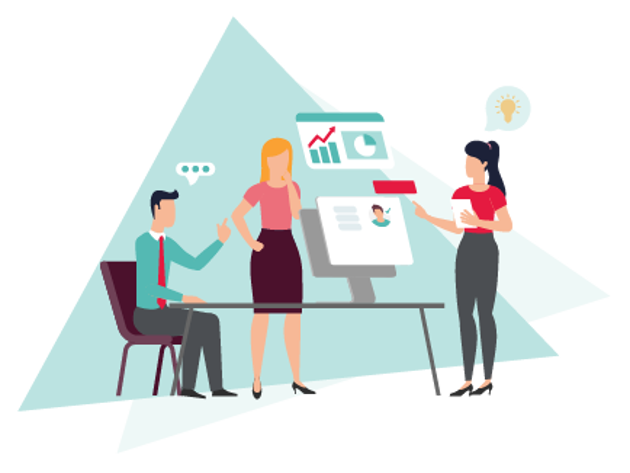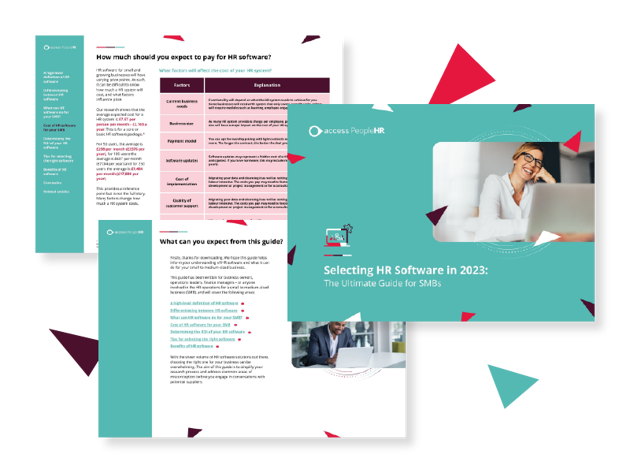 Guide to Selecting HR Software in 2023
Our latest free guide will help you to simplify your HR software research and enter the marketplace with confidence.  
The guide covers: 
How to determine ROI from investing in HR software

HR software features that SMBs need in order to thrive in 2023

Actionable tips on how to select HR software in 2023 and beyond

HR software buying insights
Whether you're a HR leader, CEO, business owner or office manager, this guide will help you make the right choice.
Download now
Saves time
Automate repetitive HR tasks
You don't need to fill your day tracking sickness, approving holiday requests, updating employee information, and compiling turnover reports. Our HR software automates the repetitive tasks you hate, so you can focus on responsibilities that have real impact on your organisation.
Show me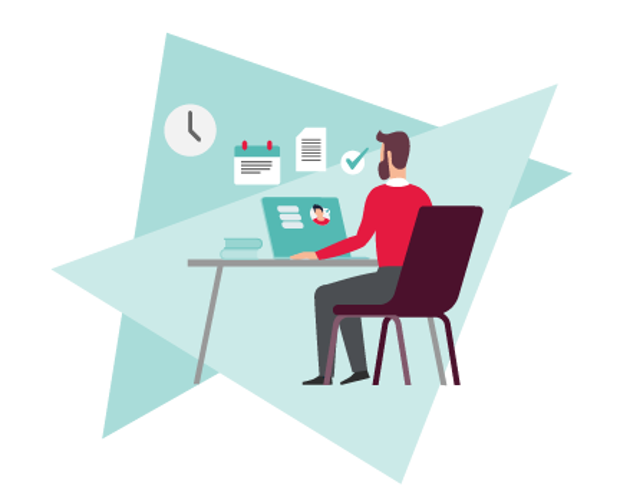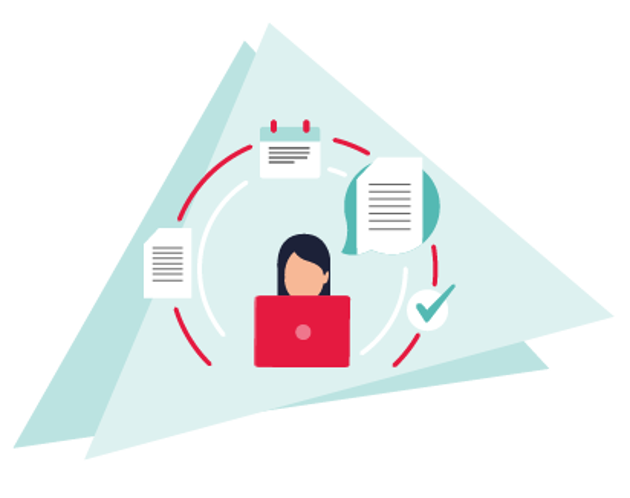 Applicant tracking
Find the best people for your organisation
You don't have to leave recruitment to chance, or even a game of numbers. The People HR Applicant Tracking System helps you to attract and retain the most talented people who fit your culture. Build a compelling employer brand, share your vacancies in the right places, and easily identify and connect with the people who will help your business grow.
Applicant Tracking System
Brings data to life
Achieve HR results that make a difference
When you can demonstrate the value of HR, other people in your business will be more likely to listen to your recommendations. People HR helps you discover vital HR information, and present it to your fellow business leaders, HR managers and staff in a way that drives positive action. Stop wrestling with spreadsheets, and use our explosive graphical HR Reports to bring your important data to life.
HR Reports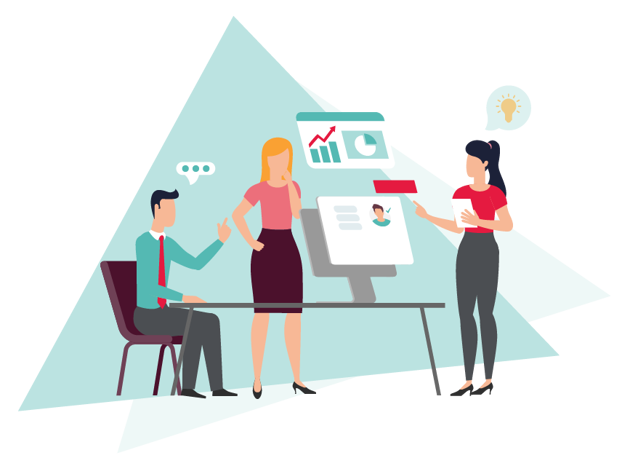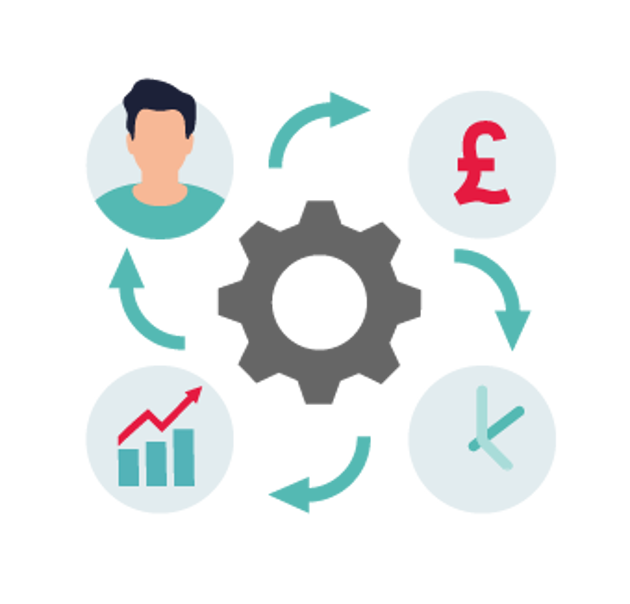 Affordable
Pay for what you need
We offer a transparent and simple pricing structure that is affordable for small and growing businesses. The structure allows you to build the package that is the perfect fit for you, and our fully scalable cloud based HRMS software has been designed to give you the utmost flexibility, so you can scale up or down as and when you need to.
What our
customers

say about us...
People solutions for medium to large businesses
Drive HR transformation with future-ready integrated HR and Payroll software
Are you a larger business with complex needs requiring more flexible and specific functionality from your HR solutions? We can help. Access PeopleXD is our scalable, end-to-end HCM software that spans the entire employee lifecycle – helping deliver a seamless employee experience and a joined-up approach to data, whilst reducing your total cost of tech ownership.
Find out more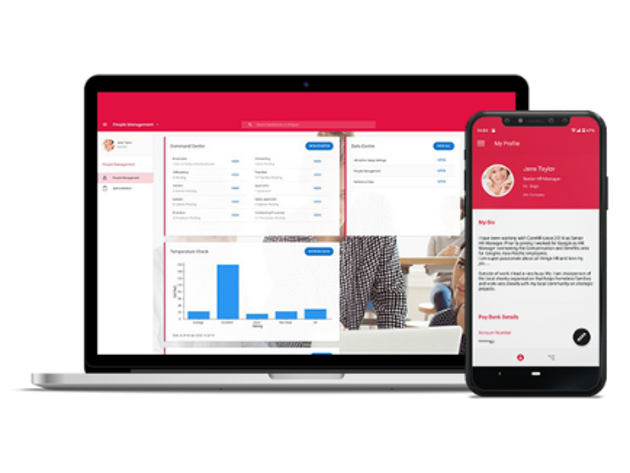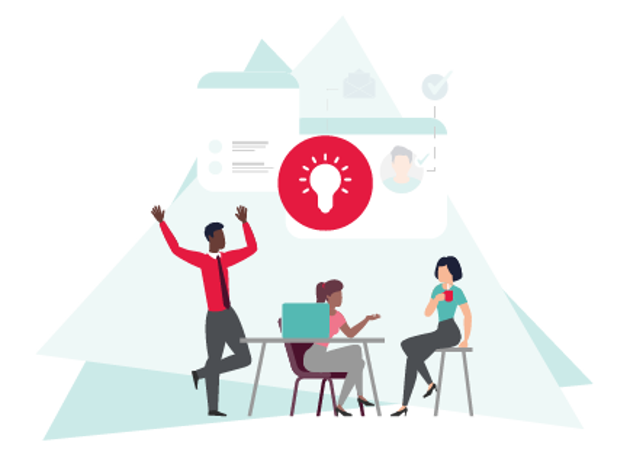 Expert guidance
Make smarter HR decisions
People HR helps you make smarter HR decisions, by recommending actions based on HR best practice. See what other HR managers and professionals are doing, to learn from your peers and improve your decision making. Then benchmark your HR statistics against other organisations in your industry, to find out where you need to improve.
Learn more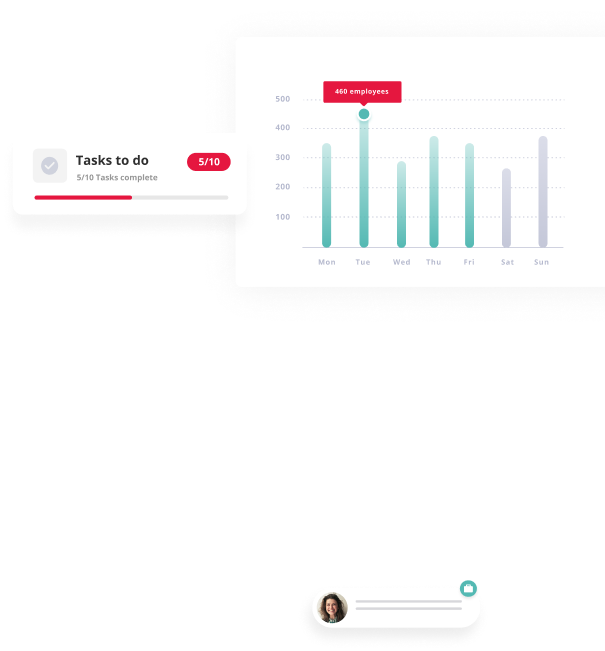 Get started with our easy 4 step implementation plan
Migrating to a new HR system can feel intimidating, but our implementation experts will guide you through with ease. Since 2013, we have helped thousands of companies get set up with modern cloud based HR software, using our proven 4-step HR System Implementation Process.
Dedicated
Expert training
Our friendly team of expert trainers know the system inside out. Your dedicated product trainer will show you how to make the most out of People HR, in order to make maximum impact across your entire organisation. Training is available online, or in person - either at your site, or at our head office.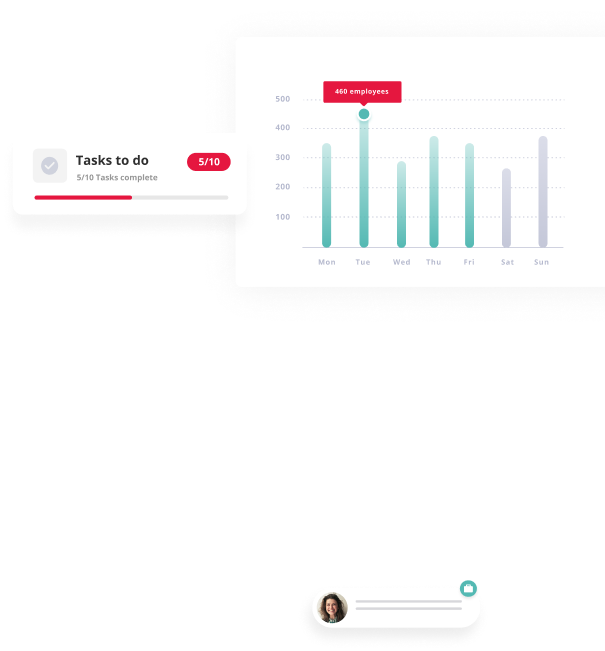 Talk with an
expert
If you need advice we are always here to talk. Just fill in the form below and one of our HR software experts will be in touch straight away
Progressive online HR software that makes a real difference
Easy to learn
Our HR software is easy to learn, with no technical knowledge. You'll enjoy doing more with your HR data, without the struggle of paper files or spreadsheets.
Engaged employees
Give your workforce a system they can access anywhere. Engage your employees globally, with the People app for Android and IOS.
Expert service
Our proven implementation process moves your data safely into its new home, and our friendly experts support you every step of the way.
Smarter decisions
In-built advice gently guides your actions. You'll make more informed decisions, based on HR best practice and industry data from companies similar to yours.
Business impact
Create explosive reports that demonstrate the impact HR is making on your organisation's success, and tell memorable stories with your company's data.
Clear prices
It's easy to find a price, because we publish our rates openly. Competitive pricing helps you reduce business costs, and we have a selection of packages to suit your needs.
Integrated

with your other software systems

We've teamed up with some of the most popular HR and business applications, to help you automate even more routine tasks, and make HR even faster and easier. Browse our integrations directory below, to discover which systems connect with People HR.
Frequently Asked Questions
PeopleHR offers a number of different features to suit your business needs. Our core features include our HR self-service system, a centralised employee document database and attendance management software. However some are more specific to your requirements, such as our Applicant Tracking System, performance management and HR reporting features. Learn more about our features on our product page.
People HR helps your business by managing your HR requirements, understanding and reporting on your data, and taking the right action to accelerate growth.
Simplify your HR processes and reduce admin spend by automating HR tasks
Avoid common compliance risks
Keep HR data secure, organised and centralised
Reduce manual errors and eradicate spreadsheet hell
Manage your employee lifecycle all in one integrated system
Getting you up and running as quickly as possible with People HR is our top priority. We ensure that all our customers receive the best implementation, expert training and support, so that you can get the most out of your system - fast. We'll also ensure you have access to helpful webinars, blog resources and advisory services.
Your information will be secure with People HR, because at every step of the process we have measures in place to protect your data using authentication, encryption and security protocols. 
Our software is protected by a unique API key, which itself has a layer of TLS1.2+ protection. All data is protected at rest with database encryption on servers AES 256, and mobile app data is secured between the app and server using HTTP secure protocol. In-essence, People HR uses the best security measures to keep your data protected on both desktop and mobile.    
Cookies: We have cookies enabled on the Web Application Firewall session, the application session, the Intercom customer service session, and the web server session. The cookies contain no personal information and are only relevant internally to our servers in the UK.
The best HR software for your business is dependent on your organisation's size, budget and key HR management problems you need to address. 
If you have a small growing business, you may want a HR software that centralises employee records, manages documents and automates processes with a mobile app. Any business should consider these factors when choosing a HR software:
The best price for your business size
What essential features you need
Any people management problems do you need to combat
GDPR Compliance
Process optimisation
Additional training and support
Implementation timescales 
Choosing the right HR software for your business can be a difficult task. Our HR software comparison guide will help you in conducting your own HR software comparison.
HR software is important in automating and streamlining essential HR processes as well as improving your overall business efficiency. HR software also saves you time and resources, giving employees more time to focus on activities that really matter.
Once you are up and running with People HR, you'll always have support from a friendly team of experts. Our support desk is looked after by an enthusiastic team of HR software system specialists, who are available during office hours to help you with your queries.
Outside office hours, our team have put together a library of articles and videos that can be found in our Help Centre to help you with any problems or questions that you might have. If you cannot find your answer please raise a case and we will pick this up as soon as possible within our working hours.
HRMS stands for Human Resources Management System. This refers to the various tools and processes that enable HR management through features like applicant tracking, absence management, centralised records and automated expense reporting.
Learn how People HR could

help your organisation