Where should you start when comparing HR software solutions?
Do you look at HR software features, price, functionality – or something else first?  Software comparison sites can show you tables and data of features and prices- but if you want practical guidance on how to make a personal choice or want the key components you should compare when choosing the best-fit HR software provider, this is the right article for you for you.
Learn more about HR software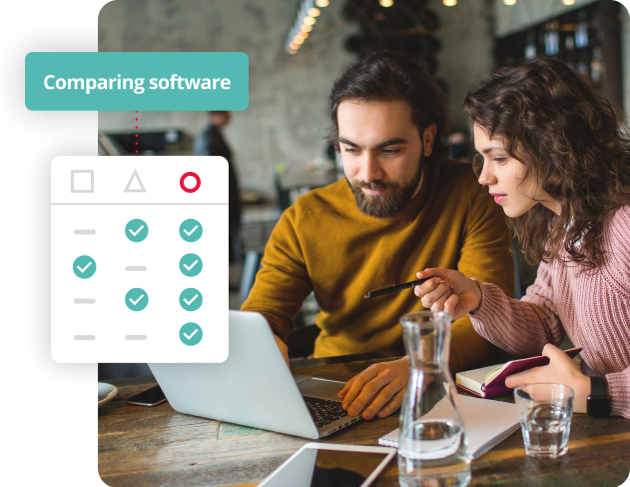 Making a HR software price comparison
What are your people management problems?
The first step as you start to compare HR software is finding what people management problems you currently have and which ones you may have in the future that the solution could solve.  This will help you understand what type of software functions you need and which you can leave behind. Later, in the HR software price comparison we will cover how the costs work, but for now, just think about what is essential for you both now and in the next 5 years
There are a few key problems common to many SMBs. Do any of these sound familiar?
Are your people management systems or processes inefficient and labour-intensive, costing time and money?
Are you concerned that as you don't have digital HR systems you are putting your business at risk?
Do you not have an HR specialist, so need a system that can guide you?
Are you looking because you have already suffered mistakes due to human error?
Do you worry you do not have a true overview of staff absences?
Do you already have different systems that don't talk to each other and want to standardise this?
Is recruitment left to the wayside or completed in a silo away from the business systems?
Do you have concerns over compliance and best practice and how you can ensure your business is above board?
These are all common complaints that form a good basis for choosing HR software and can help bring out primary concerns. You might already be forming an idea that your HR software must be able to handle core HR tasks and recruitment, or that it's essential that there is some integration into your payroll tools.
What would HR system success look like for my business?
When you consider a software purchase it is wise to think about what success looks like before you buy. Successful HR systems should be:
Efficient
Streamlined
Compliant
Connected to other business processes
But you're your business will have its own specific goals. For example:
'Can this method reduce the 6 hours a month we spend on admin regarding holiday approvals?'
'How will the tech improve staff engagement and retention - what is the evidence for this?'
'Can this supplier help us with compliance before our next audit?'
'Will this software decrease recruitment costs and speed up recruitment processes?'
What are the current issues that your business is facing? Create a checklist of all the areas where you feel that HR software could support you and try and calculate the current time spent on these tasks.
For example:
How long do you spend communicating absences with payroll?
How long does the average recruitment drive take from posting to interviewing?
Analyse and find your sunk time for a clear view of where a HR system is going to add the most value.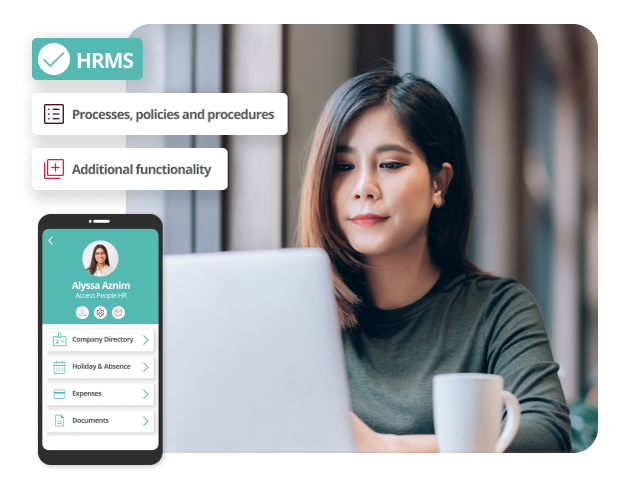 What type of HR software does my company need?
Do you need software for essential HR Tasks?
If you need the essentials, it is likely that you may not have a dedicated HR professional in the business and you need a system that can do it all. Or you could be the only HR professional who needs to make the most of your time and resources.
You want to:
Automate the repetitive tasks that drain your time.
Track sickness and annual leave
Update employee information
Stay on top of right-to-work information
Send out reminders and documents
Give staff the ability to self-serve to see their remaining holiday balances, request time off, track their performance and update their personal details themselves
Get reminders of tasks and essential must-do's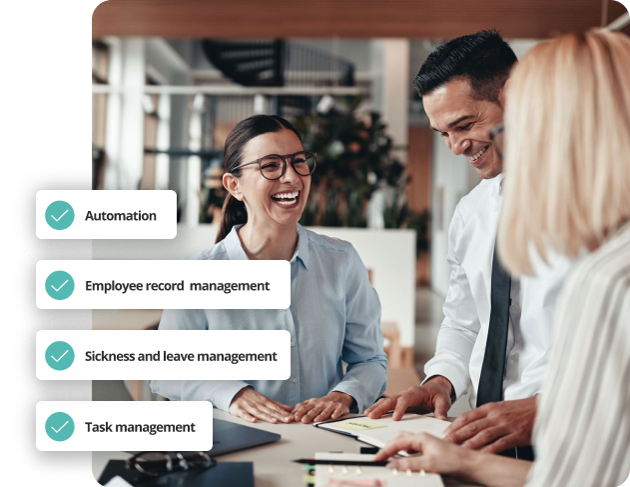 Do you need software for an all-in-one HR solution?
If you need a more unified system, you probably need to ensure you can do everything that an essential HR package can offer, but you also want it to do a little more. You are probably best suited to a software solution that is likely pitched as an all-in-one choice.
Features you might benefit from:
Ability to manage the entire employee life cycle in a unified, all-in-one HR system
Options of lots of integrations
A high volume of storage for all your documents
Reports that can grow with you and suit many departments
Ability to add on recruitment and hiring functions
Other features in the areas of payroll and communication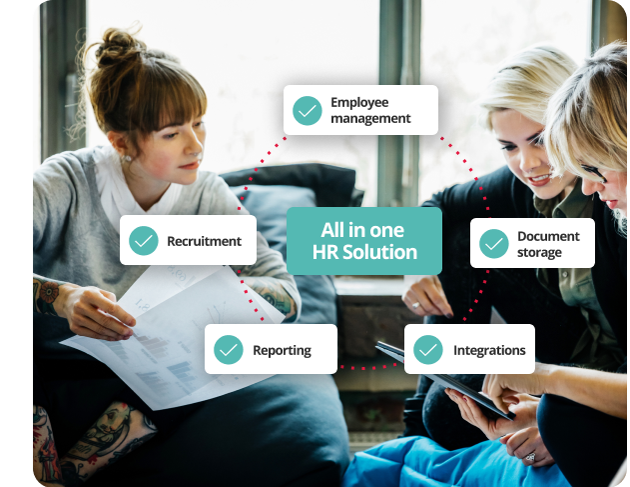 Do you need HR performance management software?
Some companies are really focused on HR performance management, and this can be something that software helps you with too. Make an HR performance management software comparison based on each software's capabilities. Again, these will be down to your unique goals, but as a standard, for smooth and efficient performance management you should be able to:
Book performance review meetings
Create best-practice performance review formats
Allow goal setting and tracking
Give you notifications and reminders to act
Undertake performance reviews
Do you need HR payroll software?
We would recommend that you compare HR payroll software based on their integrations foremostly.
Look for cloud-based software
Check it is fully compliant and HMRC-approved
Question if there a payroll dashboard to manage all tasks
Look at functions like online payslips as well as more advanced functionality like advanced wages.
Some software is a processing-only option, some is a fully managed service. Compare based on the level of support you think you might need. Do you have someone who could run payroll for you, or is there ever the risk that they won't be there?
You might also have your own specific concerns and areas to address. One of the main reasons we see people look for new software is to try and get employees' buy-in.
As the quote says, 'people are resistant to change unless it benefits them'. A great new system is only great if teams use it and like it. You could compare HR software features and tech all day long – but this is all quite secondary to how useable it is, as it will be vital to get buy-in within your business. If they don't use it, it won't work.
One thing to search for is 'self-service HR' or 'employee self-service.' In a nutshell, employee self-service software provides your people with the power to own their own HR data, manage their holiday and sickness requests, and conduct simple HR tasks by themselves. This also saves considerable time for you.
Stats show that employees value empowerment - being given the ability to do things for themselves - and that it has a positive effect on engagement.
Have a look at some more information on the benefits of Self-Service HR Software.
Consider the size and scale of your business
Before you get your credit card out, fine-tune your requirements once more. This feeds into cost - so you'll want to get this right!
Most software providers will be interested in discovering the basics of your business. To compare apples to apples, you should be supplying some standard information to each supplier.
Number of employees you have and expect to have in the next few years
The level of functionality you need - where does it need to integrate? What is a must-have tool?
Will you need support on migration and implementation?
How much guidance do you need?
Scaling is an important part worth referencing. Stats show that when it comes to business growth, HR leaders are predicted to be under pressure. In fact, research predicts that 50% of SMBs will not survive the next five years and part of this can be attributed to a lack of HR planning when it comes to growth.
If you're an SMB with big plans for expansion, make sure your HR software is ready for the journey.
As part of the Access Group, People HR offer expert, trusted technology that scales.
One of the best benefits of using People HR is the ability to create an HR software stack piece by piece. Many customers start off using People HR to tackle core HR tasks and remove admin burden but soon spot opportunities to start invigorating their recruitment process with video calls and candidate screening or getting more from automation tools and self-service functionality.
Questions to explore with an HR Software provider: The ultimate list
Integration capabilities & ease
What current systems can you integrate with, and what would you recommend for the future?
Where is data hosted?
What are the other practicalities around integration?
Is there an open API?
Is it on the cloud (SaaS - Software as a Service - pronounced sass) or an on-premises system?
People HR is what we call a "SaaS solution" – meaning it exists completely in the cloud. This means that there's nothing to download and nothing to install, and you can access your entire HR system via any browser on any device. People HR has an open API that you can use, along with a wide range of pre-built integrations to a range of business applications. Your data is stored in a secure Managed Data Centre in the UK, with 24x7x365 onsite monitoring. Our security protocols meet the highest levels of compliance. Our data hosting is fully compliant with UK and EU legislation.
Features: 
These will be related to your own wish list of features, but you may wish to explore areas such as integrations, recruitment and applicant tracking, time management, employee surveys, employee performance reporting, absence tracking, and data storage.
Compliance:
How can you help us stay up to date with regulations and compliance?
How does the software/system collect and manage employee records in a way that can reduce compliance risk?
How are you able to ensure we are fully compliant with GDPR?
Optimisation:
Do employees have access to instant self-service to handle basic tasks?
Can employees and administrations access from any device - desktop and mobile (HR app)?
How can we view key information immediately? What does this include?
How are we prompted to act?
Can colours and the look be tailored?
How are trends in data reported and captured?
People HR has built-in tools that allow users to tailor the solution to suit their needs, including colour schemes and layouts, as well as a complete self-service option on desktop and mobile.
Costs:
What is the cost and is this per month?
Do you offer a free trial?
What is the contract length?
What are the upfront costs?
What are contract lengths?
With packages starting as low as £3 per employee per month, People HR is one of the lowest-cost solutions on the market. We publish our prices on our website so that you can easily work out what it's going to cost.
At People HR we offer a Free Trial, and our friendly team will then guide you through the setup of your solution. You can sign up with a monthly rolling contract or take advantage of our special offers for longer commitments such as 12-month contracts.
Learn more about the costs of HR systems in 2023.
Support & Training:
What is the average time to get a response?
How do you offer easy access to support and what does this look like?
What are support hours?
Does this include help with set up, if so, what is within the scope of this?
What is the level of training and how is this done?
Who will be on the discovery phone calls? What information do you need?
People HR can supply on-demand training, from either a range of standard courses or, if you have more specific needs, can tailor training to your requirements, and People HR is an always-on solution, available 24/7 from any device. Our wide range of helpful tools, including how-to guides, FAQ and our comprehensive Customer Portal is also available anytime. Our support desk is open from 9am to 5pm on UK working days.
Timescales:
What are the deadlines for implementation?
What is the fulfilment rate?
What testimonials can they share to attest to the speed and quality of the set-up?
We can get you up and running in People HR in a few days! Our friendly team will take you through our proven implementation plan step by step to ensure you can get the most from the solution. We have handy how-to guides to take you through everything from loading data to creating your org chart and user permissions, along with comprehensive training guides to help all your users get going as quickly as possible.
How do HR software providers charge?
Most providers will charge you a monthly fee. This is usually based on the number of employees you have. The price will increase as you add more and more employees to your account. 
Some providers also offer enterprise pricing plans for larger businesses. These can be customized to your specific needs and can include features like unlimited users, storage, and support.
You may also be charged extra for certain features, like performance management or applicant tracking. Be sure to ask about any hidden fees or charges before you sign up for a plan.
The costs are worked out in different ways and there's no one definitive answer - it really depends on your needs.
With People HR you can pay for just the features you want and add more as your business grows. We also have a range of pricing plans to suit every budget, so you can find one that's perfect for your company.
Look at our clear and transparent HR software pricing. For further reading, see our guide How much does HR software cost?
Final tips for making an HR performance management software comparison
For an HR software comparison, UK vendors should be assessed, but we do live in a global world. You may be able to look at suppliers in other areas. However, look at support hours, translation options and default currencies.
How many vendors should you assess? There is no definitive answer, but a good rule of thumb is to assess around three vendors. This will give you a good range of options to choose from and help you make an informed decision.
Remember, the more comparisons you make, the better off you'll be. When comparing HR software providers, it's important to consider all aspects of the relationship - not just the cost.
Be sure to ask questions about support, training, and implementation timescales to get a complete picture of each provider.
Can't decide? Ensure you are taking advantage of those free trials and demos and see for yourself. 
"Choosing a new HR software provider is a big decision…  I would recommend that you assess all the providers and make your own personal benchmarks. Only you know what will be right for your growing business. If you'd like to speak to an expert, without obligation, we are just a call away." - People HR spokesperson. 
Next steps
When the time comes to evaluate HR software comparison, it's important to remember that not all solutions are created equal. Get all you can from product demos and think about how you will specifically be able to use the software to get the most out of it.  For an overview, why not watch our short demo video.
If you'd like a more in-depth discussion of the options, speak to one of our experts.
4 min demo